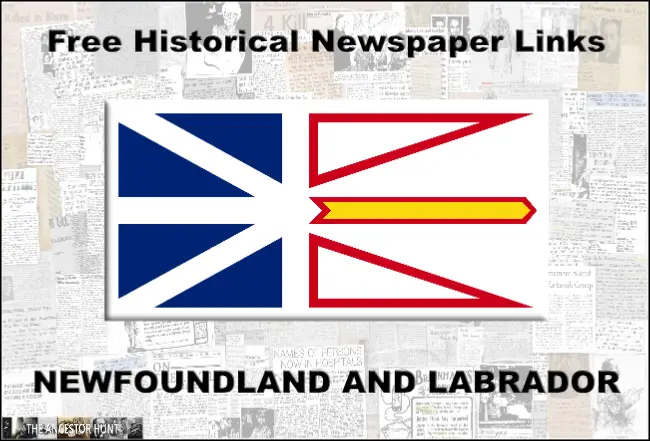 ​Newfoundland/Labrador is one of the Canadian provinces that does have a single central online repository for searching historical newspapers. Also, there are several free publications available on other sites and there are small collections available on subscription sites. Below is a list of where the titles are stored and the link so that you can access them. 
​So go for it – find your Newfoundland and Labrador ancestors and all the interesting articles that capture the stories of their lives. 
Please note that I have not always entered the dates that are included in the collections, as I suspect they will change as more items are digitized. Also, I suspect that some of these links may change over time – so if there is a dead link – please use your favorite search engine to find their new location. 
(Updated July 2021; recently added links are in BOLD)
Free Sites:
Provincewide Collections:
Memorial University of Newfoundland – Digital Archives Initiative
Centre for Newfoundland Studies Newspaper Collection
Google News Archive
Digitized Periodicals from the Centre for Newfoundland Studies
The Cadet. Published 1914-1924

Christmas Annual.

Christmas Bells. Published 1892-19?

Christmastide. Published 1907-?

College Courier

Colonial Commerce. Published 1915-1919

Commercial Annual. Published 1916-1921?

Curtis Academy Magazine. Published 1944-1956

The Distaff. Published 1916-1917

Easter Lily. Published 1917-?

Forward. June 1946

Imperial Oil Review. Vol. 25 No. 1 Spring 1941

Military Gazette. Vol. 60 No. 9 September 1945

Newfoundland News. Published 1939?-1945?

Newfoundland Magazine (1917). Published 1917-192?

New-land Magazine. Published 1962-1990/91

Parsons' Xmas Annual. Published 1899-1907?

The Record. Published 1898-?

St. John's Woman

Shortis Papers.

Spencerian. Published 1921-1959

Sports and Pastimes in Newfoundland. Published 1911?-1916?

TickleAce. Published 1977-2003.
Newfoundland Newspaper transcriptions
Transcriptions – Newfoundland Grand Banks
Student Collections:
Memorial University – St. Johns
For Obituary Indexes, transcriptions, and other death/obituary information from historic newspapers, please check out the Obituaries page.
Other Free Sites:
Subscription or Pay Sites:
Ancestry.com:
There is currently 1 publication available at this site. See all the titles at Ancestry – Newfoundland and Labrador Newspapers
Paper of Record:
There are currently 2 publications available at this site. See the titles at Paper of Record – Newfoundland and Labrador
Newspaper Archive:
There are currently 4 publications available at this site. See all the titles at Newspaper Archive – Newfoundland and Labrador
And Finally:
You might want to check out the Memorial University's Digital Archives Initiative site from time to time to see what is available online or otherwise. 
Please note – even more may be available via a local or provincial library where a library card is required. And of course, there is always microfilm for those that have not been made available online as yet.
Good Luck and Happy Hunting!
For more links for different states, provinces, and countries – please see the Newspaper Links page on this website.
For other Free Newfoundland and Labrador Links, click on the category of interest:​​
Newspapers
Obituaries
BMD Records
Photos
Yearbooks
Directories