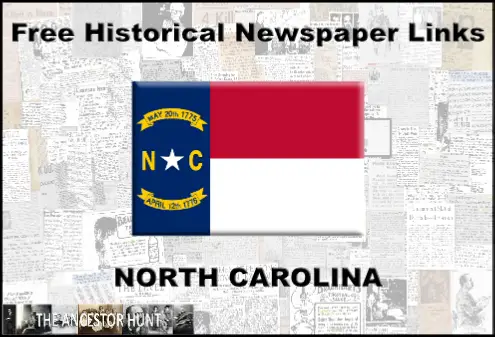 North Carolina has one large online state collection for searching historical newspapers. Several states use the Library of Congress Chronicling America site as their main central online site for searching old newspapers and currently, North Carolina has several newspapers available on that site as well. There are many free online newspapers also available on other sites and there are collections available on subscription sites. Below is a list of where the titles are stored and the link so that you can access them. 
There are over 2,600 newspapers that have been published in the Tar Heel State – certainly not all of them are searchable online. But there are several that are indeed available. So go for it – find your North Carolina ancestors and all the interesting articles that capture the stories of their lives. 
Please note that I have not always entered the dates that are included in the collections, as I suspect they will change as more items are digitized. Also, I suspect that some of these links may change over time – so if there is a dead link – please use your favorite search engine to find their new location. 
(Updated October 2022; recently added links are in BOLD)
Free Sites:
Statewide Collections:
Chronicling America – North Carolina Newspapers
Google News Archive
North Carolina Community Newspapers
County and Library Collections:
Alamance County
Alamance County Public Library
The Daily Times-News
The Saturday Times-News
The Sunday Times-News
Dare County
Dare County Library
The Coastland Times

Coastland Times

The Dare County Times

Dare County Times

Sea Chest Magazine 
Harnett County
Harnett County Newspaper Archives
Angier Independent
Bakersville-Burlington
Daily Record
Democratic Banner
Harnett County News
Harnett Leader
Little River Record
State Voice
Haywood County
Haywood County Public Library
The Carolina Mountaineer
The Carolina Mountaineer And Waynesville Courier
The Daily News
The Enterprise Mountaineer
The Haywood Enterprise
The Mountaineer
The Waynesville Mountaineer
The Waynesville News
The Western Carolina Enterprise
Waynesville Courier
Nash County
Braswell Memorial Library
Robeson County
Mary Livermore Library
Rowan County
Rowan Public Library
Davidson College Library Community Newspaper Collection, 1883-1958
Davie County Newspaper Collection
Mooresville Public Library Special Collections
Mooresville Enterprise

Mooresville Tribune

Mooresville Monitor
The Record-Times
The Gazette
Weekly Register
Mooresville Record
Morganton Area Newspaper Index
Asheville Citizen-Times

The Blue Ridge Blade

The Burke County News

The Carolina Mountaineer

The Charlotte Observer

The Farmer's Friend

The Hickory Daily Record

The Morganton Herald

The Morganton Star

The News Herald 1902 –

The Valdese News
UNC Greensboro Library Historical Newspapers
Greensboro Patriot

Greensborough Patriot

The Little Ad

The Patriot and Flag

The Patriot and Greensborough Palladium

Carolina Beacon

Carolina Patriot

Southern Telescope

10-Shun

BTC 10-shun

ORDealings

The ORD News

The Rotator
Student Collections:
North Carolina Student Newspapers
Catawba College – Salisbury
Davidson College – Davidson
Duke University – Durham
East Carolina University – Greenville
High Point University – High Point
​North Carolina A&T State University – Greensboro
North Carolina State University – Raleigh
University of North Carolina – Greensboro
University of North Carolina – Chapel Hill
University of North Carolina, Department of Chemistry – Chapel Hill                      
University of North Carolina – Wilmington
Miscellaneous Collections and Indexes:
Forsyth County Newspaper Index
Winston-Salem Journal
The Sentinel
Union Republican
Winston-Salem Chronicle
Clemmons Journal
Independent Voices – Alternative Press
Bragg Briefs

Do It Loud
Fort Bragg Sick Slip

Head-ON!

Inquisition

Last Incursion, The

North Carolina Anvil

On Korps

Other Side, The

Paper, The

Rage

Straight to the Point
Strike Back
Sinister Wisdom
Sinister Wisdom
Civilian Conservation Corps (CCC) Newspapers 1933-1942
American Prison Newspapers, 1800-2020
Asheboro NC Courier
Asheville NC Courier

Bibical Recorder NC

Charlotte NC News
Charlotte NC Post
Columbus NC Polk County News
Concorde NC Concord Standard
Dunn NC Dispatch
Durham NC Carolina Times
Elizabeth City NC Daily Advance

Fayetteville NC Observer

Franklin NC Press and Highlands Maconian
Gastonia NC Gazette

Hamlet NC News Messenger

Lewisburg NC Franklin Times
Marshall NC News Record

Monroe NC Journal

Morehead City NC Carteret County News Times
New Bern NC Mirror
North Wilkesboro NC Journal Patriot
Plymouth NC Roanoke Beacon
Raeford NC News Journal
Rahway NJ Advocate

Rockham NC Spirit Of The South

Rockingham NC Angio Saxon

Rockingham NC Daily Journal

Rockingham NC Post Dispatch

Rockingham NC Richmond County Journal

Rockingham NC Rocket

Rocky Mount NC Wesleyan Decree
Southern Pines NC Piolt
Tryon NC Polk County News
Vass NC Pilot
Warrington NC Record
Warsaw NC Delton Times
Washington NC Daily News
Waynesville NC Mountaineer
Williamston NC Enterprise
Wilmington NC Daily Review
Wilmington NC Dispatch
Winston Salem NC Chronicle
Newspaper Abstracts – North Carolina
For Obituary Indexes, transcriptions, and other death/obituary information from historic newspapers, please check out the Obituaries page.
Other Free Sites:
Asheville
Barium Springs
Charlotte
Cullowhee
Greensboro​
Greenville
Hendersonville
Jefferson
New Bern
Pembroke
Raleigh
Tarborough
 Whiteville
Wilson
Subscription or Pay Sites:
Ancestry.com:
There are currently 36 publications available on this site. See all the titles at Ancestry – North Carolina Newspapers
Genealogy Bank:
There are currently 318 publications available on this site. See all the titles at Genealogy Bank – North Carolina Newspapers
Newspaper Archive:
There are currently 219 publications available on this site. See all the titles at Newspaper Archive – North Carolina
Newspapers.com:
There are currently 1,090 publications available on this site. See all the titles at Newspapers.com – North Carolina. 
And Finally:
You also need to visit the North Carolina Newspapers site from the North Carolina State Library from time to time, which can tell you what is occurring in the state with regard to online newspaper availability. It also has a locator which can tell you where hard copies and microfilm copies can be found.
Please note – even more may be available via a local or state library where a library card is required. And of course, there is always microfilm for those that have not been made available online as yet.
For more links for different states, provinces, and countries – please see the Newspaper Links page on this website.​