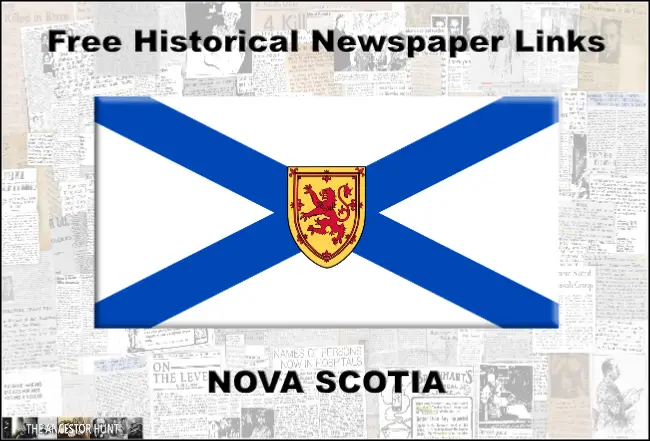 Nova Scotia is one of the Canadian provinces that does not have a single central online repository for searching historical newspapers. However, there are several good-sized collections of historical newspapers. Also, there are quite a few free publications available on other sites and there are collections available on subscription sites. Below is a list of where the titles are stored and the link so that you can access them. 
So go for it – find your Nova Scotia ancestors and all the interesting articles that capture the stories of their lives. 
Please note that I have not always entered the dates that are included in the collections, as I suspect they will change as more items are digitized. Also, I suspect that some of these links may change over time – so if there is a dead link – please use your favorite search engine to find their new location. 
(Updated October 2023; recently added links are in BOLD)
Free Sites:
Provincewide Collections:
Nova Scotia Historical Newspapers – Beaton Institute
Nova Scotia Historical Newspapers
Google News Archive
St. Francis Xavier Digital Collections
Student Collections:
Acadia University – Wolfville
Cape Breton University – Sydney
Dalhousie University – Halifax
Mount Saint Vincent University – Halifax
St. Francis Xavier University – Antagonish
Saint Mary's University – Halifax
University of King's College – Halifax
Miscellaneous Collections and Indexes:
For Obituary Indexes, transcriptions, and other death/obituary information from historical newspapers, please check out the Obituaries page.
Other Free Sites:
Halifax
Subscription or Pay Sites:
Ancestry.com:
There is currently 1 publication available on this site. See all the titles at Ancestry – Nova Scotia Newspapers
Paper of Record:
There are currently 4 publications available on this site. See the titles at Paper of Record – Nova Scotia
And Finally:
You might want to check out the Nova Scotia Historical Newspapers site from time to time to see what is available online or otherwise.
Please note – even more may be available via a local or provincial library where a library card is required.  And of course, there is always microfilm for those that have not been made available online as yet.
For more links for different states, provinces, and countries – please see the Newspaper Links page on this website.