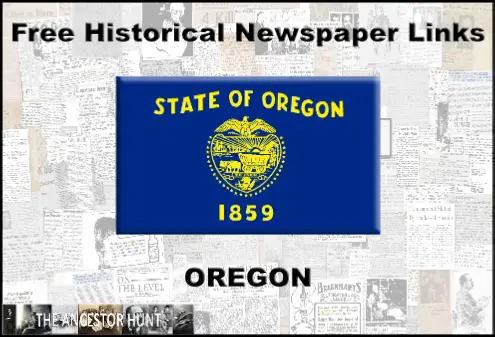 Oregon has state-wide online collections and indexes for searching historical newspapers. Several states use the Library of Congress Chronicling America site as their main central online site for searching old newspapers and currently, Oregon has quite a few newspapers available on that site. There are many free online newspapers also available on other sites and there are collections available on subscription sites. Below is a list of where the titles are stored and the link so that you can access them. 
There are over 1,500 newspapers that have been published in the Beaver State – certainly not all of them are searchable online. But there are several that are indeed available. So go for it – find your Oregon ancestors and all the interesting articles that capture the stories of their lives. 
Please note that I have not always entered the dates that are included in the collections, as I suspect they will change as more items are digitized. Also, I suspect that some of these links may change over time – so if there is a dead link – please use your favorite search engine to find their new location. 
(Updated July 2023; recently added links are in BOLD)
Oregon Historical Newspapers
Free Sites:
Statewide Collections:
Google News Archive
Historic Oregon Newspapers 1846-2023
Oregon Index 1974-2004 (Index only)
Coos Bay World, Jan 1996 – May 1996

Corvallis Gazette Times, 1988 – 1999

Daily Astorian, 1998-1990

Eugene Register-Guard, 1988 – 2002

Klamath Falls Herald & News, 1996

La Grande Observer, 1995 – 2004

Lake Oswego Review, 1996 – 2004

Portland Oregonian, Jan 1985-Dec 1992

Salem Statesman Journal, Jan 1987 – Sept 2002

Tigard Times, 1996 – 2003

West Linn Tidings, 1998 – 2004

Willamette Week, 1974 – 1997

Wilsonville Spokesman, 1995 – 2004
County and Library Collections:
Coos County
Flora M. Laird Memorial Library
Myrtle Point Herald 

Myrtle Point Enterprise 

Herald 

Southern Coos County American

Salem Daily Press

Fossil Journal 

Wallowa County Chieftain

Enterprise Record Chieftain

St Johns Review 

Polk County Itemizer 

Oregon State Journal 

Oregon Independent

West Oreganian 

Farmers Union News

News of Port Orford 

Monmouth Herald 

Amity Enterprise

Daily Evening Telegram

Evening Record

Newberg Graphic 

Oregon Observer 

Oregon Scout 

Roseburg Plaindealer

Turner Tribune 

Weston Leader

Yamhill Record

Amity Popgun 

Evening Telegram 

Milwaukie Review 

Coquille City Herald

Plaindealer

Eastern Oregon Republican
Umatilla County
The Weston Public Library 
Weston Leader 

Weston Weekly Leader
Wallowa County
Enterprise City
Aurora

Border Signal

Chief Joseph Herald

Enterprise Chieftain

Enterprise News Record

Enterprise Record Chieftain

Flora Journal

Joseph Herald

Lostine Reporter

News Record

Silver Lake Herald

The Bulletin

The Horner Papers – Volume 1a

The Horner Papers – Volume 1b

The Horner Papers – Volume 2a

The Horner Papers – Volume 2b

Wallowa County Chieftain

Wallowa County Reporter

Wallowa Record

Wallowa Sun
Aurora

Blue Mountain Times
Daily Chronicle

Enterprise Chieftain

Grand Ronde Chronicle
Grande Ronde Sentinel
Grande Ronde Times
La Grande Advocate
La Grande Chronicle
La Grande Gazette
La Grande Journal

Lostine Reporter

Mountain Democrat
Mountain Sentinel
Oregon Review
Rainbarrel Echoes
Union County Farmer

Wallowa County Chieftain

Wallowa News

Wallowa Sun

Weekly Alliance
Student Collections:
Bushnell University – Eugene
Clackamas Community College – Oregon City
Corban University – Salem
Eastern Oregon University – La Grande
Friends Pacific Academy – Newberg
George Fox University – Newberg
Grant High School – Portland
Lane Community College – Eugene
Lewis & Clark College – Portland
Linfield College – McMinnville
Linn-Benton Community College – Albany
Mt. Hood Community College – Gresham
Oregon Institute of Technology – Klamath Falls
Oregon State University – Corvallis
Pacific College – Newberg
Pacific University – Forest Grove
Portland State University – Portland
Sheldon High School – Eugene
Southern Oregon University – Ashland
University of Oregon – Eugene
University of Portland – Portland
Warner Pacific University – Portland
Western Oregon University – Monmouth
Willamette Univeristy- Salem
Miscellaneous Collections and Indexes:
Independent Voices – Alternative Newspapers
Archer, The

WomanSpirit

Women's Press
Civilian Conservation Corps (CCC) Newspapers 1933-1942​
Northwest Heritage Index (Index only)
Kimble Northwest History Database 19th – early 20th century (Clippings only)
Old Fulton Postcards
For Obituary Indexes, transcriptions, and other death/obituary information from historic newspapers, please check out the Obituaries page.
Other Free Sites:
Eugene​
Hillsboro
North Portland
Portland
Rainier
Subscription or Pay Sites:
Ancestry.com:
There are currently 25 publications available on this site. See all the titles at Ancestry – Oregon Newspapers
Genealogy Bank:
There are currently 199 publications available on this site. See all the titles at Genealogy Bank – Oregon Newspapers
Newspaper Archive:
There are currently 167 publications available on this site. See all the titles at Newspaper Archive – Oregon
Newspapers.com:
There are currently 78 publications available on this site. See all the titles at Newspapers.com – Oregon. 
And Finally:
You also need to visit the Oregon Digital Newspaper Program site from time to time, which can tell you what is occurring in the state with regard to online newspaper availability. The site also has additional resources that help you find online and microfilm resources in the state.
Please note – even more may be available via a local or state library where a library card is required. And of course, there is always microfilm for those that have not been made available online as yet.
For more links for different states, provinces, and countries – please see the Newspaper Links page on this website.