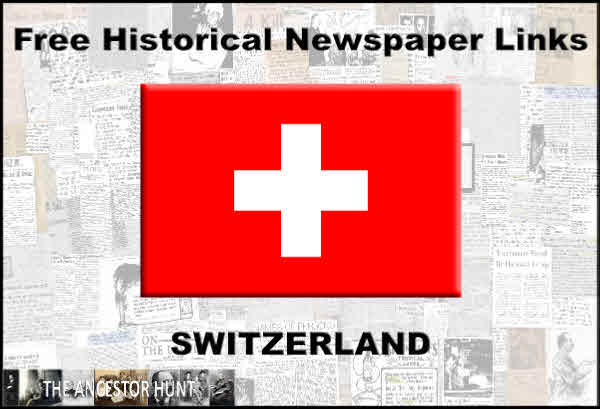 In 2014, this website began to curate links to free online newspapers in the United States. The initial publication listed about 10,000 titles. A few years later, digitized and free Canadian newspaper collection links were curated and published. Today, between the two countries there are over 47,500 historical newspaper titles that are listed. The common denominator is that they are free to search and/or browse online.
This brings us to Europe. There are 44 countries in Europe. I suspect that we will not be able to find free titles in all the countries, but that is our goal.
Each country's page will list nationwide titles, titles from other collections, and individual titles that are free to search and browse. Many countries have titles from other countries in their national libraries. They will be listed on the page of the collection that holds that title.
Switzerland
Nationwide Collections
Swiss National Library – e-newspaperarchives.ch
Other Collections
Gazette de Lausanne,  1798-1991
Journal de Genève, 1826-1998
Le Nouveau Quotidien, 1991-1998
Société Neuchâteloise de Presse
Biblioteca cantonale di Lugano Archivio digitale Sbt
Azione, 1938-2019
Bollettino storico della Svizzera italiana,  1879-2016
Eco di Locarno, 1935-1983
Gazzetta Ticinese,  1821-1996
Giornale del Popolo,  1926-2018
Illustrazione Ticinese,  1931-2018
L'azione,  1906-1911
Libera Stampa,  1913-1993
Popolo e Libertà,  1901-2011
Voce di Blenio,  1970-2013
Bibliothèque cantonale et universitaire – Lausanne
24 Heures (1762–2001)
L'Estaffette (1862–1895)
Gazettes Suisses du 18e s. (1732–1800)
Journal helvétique (1738–1782)
Journaux satiriques vaudois (1831–1993)
Lausanne-Plaisirs (1911–1928)
Le Matin (1892–2001)
Le Messager boiteux de Berne et Vevey (1741–1798)
Nouvelliste vaudois (1822–1914)
ReroDoc Digital Library Newspapers
Miscellaneous Titles
Good Luck and Happy Hunting!