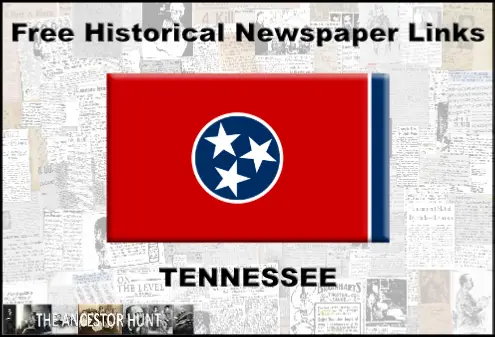 ​Tennessee is one of the states that does not have a central online state repository for searching historical newspapers. Several states use the Library of Congress Chronicling America site as their main central online site for searching old newspapers, and many of Tennessee's free online newspapers are available on the Library of Congress site. There are several free online newspapers available on other sites and there are collections available on subscription sites. Below is a list of where the titles are stored and the link so that you can access them. 
There are over 2,500 newspapers that have been published in the Volunteer State – certainly not all of them are searchable online. But there are quite a few that are indeed available. So go for it – find your Tennessee ancestors and all the interesting articles that capture the stories of their lives. 
Please note that I have not always entered the dates that are included in the collections, as I suspect they will change as more items are digitized. Also, I suspect that some of these links may change over time – so if there is a dead link – please use your favorite search engine to find their new location. 
(Updated July 2023; recently added links are in BOLD)
Tennessee Historical Newspapers
Free Sites:
Statewide Collections:
Chronicling America – Tennessee Newspapers
Google News Archive
Tennessee State Library and Archives (available in library only)
Chattanooga Daily Gazette 1864-1865

Chattanooga Daily Rebel 1862-1863

Chattanooga Advertiser 1844-1862

Jonesborough Whig, and Independent Journal 1839-1843

Memphis Appeal  1892-1899

Nashville Union 1845-1868

Maryville Republican 1876
County and Library Collections:
Carter County
Elizabethton Carter County Library
Spinnerette
The Spinnerette
The Watauga Spinnerette
Watauga Spinnerette
Coffee County
Manchester Times

Coffee Countys New Leader

The Independent
The Apalachian
The Bugle
The Independent
The Lynchburg Banner
The Lynchburg Falcon
The Lynchburg Sentinel
The Moore County Hustler
The News
The Tullahoma News
The Tullahoma News And Guardian
Tullahoma Standard
Tullahoma Times
Chattanooga Advertiser

Chattanooga Commercial

Chattanooga Daily American Union

Chattanooga Daily Commercial

Chattanooga Daily Gazette

Chattanooga Daily Press

Chattanooga Daily Rebel

Chattanooga Daily Times

Chattanooga Evening News

Chattanooga News

Chattanooga Press

Chattanooga Sunday Commercial

Chattanooga Sunday News

Chattanooga Times

Chattanooga Weekly Press

Commercial

Crabtrees Saturday Press

Daily American Union

Daily Commercial

Hamilton Gazette

Republican Press

South Pittsburg Hustler

The Chattanooga Daily Rebel

The Chattanooga Daily Times

The Chattanooga Dispatch

The Chattanooga Gazette

The Chattanooga Star

The Chattanooga Sunday Times

The Chattanooga Times

The Chattanooga Daily Times

The Daily Chattanooga Rebel

The Daily Rebel

The Daily Republican

The Daily Times

The Rebel

The Southern Press

The Times
Henderson County
Lexington Public Library Publications Archive
Marshall County
Lewisburg Gazette
Lewisburg Tribune
Marshall County Tribune
Marshall Democrat
Mashall County Tribune
The Marshall Gazette
The Southern Messenger
Student Collections:
Austin Peay State University – Clarksville
Baptist Health Sciences University – Memphis
Belmont University – Nashville
Bethel University – McKenzie
Bryan College – Dayton
Christian Brothers University – Memphis
Cumberland University – Lebanon
East Tennessee University – Johnson City
Fisk University – Nashville
Freed-Hardeman University – Henderson
Harpeth Hall School – Nashville
Johnson University – Knoxville
King University – Bristol
Knoxville College – Knoxville
Lane College – Jackson
Lee University – Cleveland
LeMoyne-Owen College – Memphis
Lincoln Memorial University – Harrogate
Lipscomb University – Nashville
Maryville College – Maryville
Memphis University School – Memphis
Middle Tennessee State University – Murfreesboro
Milligan College – Elizabethton
Montgomery Bell Academy – Nashville
Rhodes College – Memphis
Southern Adventist University – Collegedale
Tennessee State University – Nashville
Tennessee Tech University – Cookeville
Tennessee Wesleyan College – Athens
Trevecca Nazarene University – Nashville
Tusculum University – Greeneville
Union University – Jackson
University of Memphis – Memphis
University of Tennessee – Chattanooga
University of Tennessee – Knoxville
University of Tennessee – Martin
University of Tennessee Junior College – Martin
University of Tennessee Southern – Pulaski
University of the South- Sewanee
Vanderbilt University – Nashville
Ward Belmont School – Nashville
Miscellaneous Collections and Indexes:
Independent Voices – Alternative Newspapers
Chahta Anumpa – The Choctaw Times

Napalm

The Spread Eagle

The People's Press
Civilian Conservation Corps (CCC) Newspapers 1933-1942
Index to Early Memphis Newspapers
The Story of Marion County – Index
TNGenWeb Historical News Index
Old Fulton Postcards
Newspaper Abstracts – Tennessee
For Obituary Indexes, transcriptions, and other death/obituary information from historic newspapers, please check out the Obituaries page. 
Other Free Sites:
Chattanooga
Jackson
Knoxville
​Memphis
Murfreesboro
Nashville
Oak Ridge
​Somewhere
Subscription or Pay Sites:
Ancestry.com:
There are currently 22 publications available on this site. See all the titles at Ancestry – Tennessee Newspapers
Genealogy Bank:
There are currently 249 publications available on this site. See all the titles at Genealogy Bank – Tennessee Newspapers
Newspaper Archive:
There are currently 32 publications available on this site. See all the titles at Newspaper Archive – Tennessee
Newspapers.com:
There are currently 477 publications available on this site. See all the titles at Newspapers.com – Tennessee 
And Finally:
You also need to check out the Tennessee Newspaper Digitization Project site, which can tell you what is happening in the state with regard to the newspapers that are available via microfilm.
Please note – even more may be available via a local library where a library card is required. And of course, there is always microfilm for those that have not been made available online as yet.