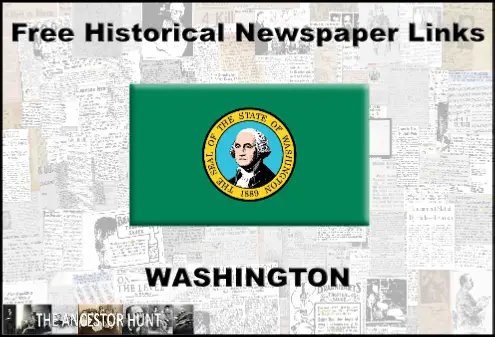 Washington has a sizable state-wide free online collection for searching historical newspapers. Many states use the Library of Congress Chronicling America site as their main central online site for searching old newspapers and currently, Washington has quite a few newspapers also available on that site. There are free online newspapers available on other sites and there are collections available on subscription sites. Below is a list of where the titles are stored and the link so that you can access them. 
There are almost 3,000 newspapers that have been published in the Evergreen State – certainly not all of them are searchable online. But there are several that are indeed available. So go for it – find your Washington ancestors and all the interesting articles that capture the stories of their lives. 
Please note that I have not always entered the dates that are included in the collections, as I suspect they will change as more items are digitized. Also, I suspect that some of these links may change over time – so if there is a dead link – please use your favorite search engine to find their new location. 
(Updated July 2023; recently added links are in BOLD)
Washington Historical Newspapers
Free Sites:
Statewide Collections:
Chronicling America – Washington
Google News Archive
County and Library Collections:
Clallam County Digital Newspaper Archives
Clallam County Journal

The Democrat

Democrat Leader

Dungeness Beacon

Forks Forum

The Herald

Model Commonwealth

The Olympic

Olympic Leader

Olympic Tribune

Peninsula Herald

Port Angeles Beacon

Port Angeles Daily Herald

Port Angeles Leader

Port Angeles Olympic

Port Angeles Olympic Leader

Port Crescent Leader

Weekly Herald
Clark County Historical Museum Newspapers Archive
The Vancouver Independent
Washington State Library – Olympian Index (Index only)
Bunchgrass Historican

Clark County History

Columbia Magazine (Washington State Historical Society) 

Columns (University of Washington) 

Cowlitz Historical Quarterly

Eastside Week 

New Pacific 

Pacific Northwest Historical Quarterly 

Pacific Northwest Magazine 

Peninsula Magazine 

Puget Sound Business Journal 

Seattle Magazine 

Seattle Weekly 

The Olympian

Washington CEO 

Washington Journal

Washington Magazine 
Pend Oreille County Library District
The Newport Miner
The Newport Pilot

The Cheney Free Press

Newport Miner
Student Collections:
Bellevue College – Bellevue
Central Washington University – Ellensburg
Clark College – Vancouver
Eastern Washington University – Cheney
Ellensburg High School – Ellensburg
Evergreen State College – Olympia
Gonzaga University – Spokane
Green River College – Auburn
Lake Washington High School – Kirkland
Mercer Island High School – Mercer island
North Thurston High School – Olympia
Pacific Lutheran University – Tacoma
Roosevelt High School – Seattle
Saint Martins University – Lacey
Seattle Central Community College – Seattle
Seattle Pacific University – Seattle
Seattle University – Seattle
Shoreline Community College – Shoreline
Spokane Falls Community College – Spokane
University of Puget Sound – Tacoma
University of Washington – Bothell
University of Washington – Seattle
University of Washington – Tacoma
Walla Walla University – College Place
Washington State University – Pullman
Washington State University – Vancouver
Western Washington University – Bellingham
Whitman College – Walla Walla
Whitworth University – Spokane
Miscellaneous Collections and Indexes:
Independent Voices – Alternative Newspapers
"A" Company Underground

"B" Company Unbridled Voice

1sT Of The Worst

And Aint I a Woman (Seattle)

B Troop News

Blue Suede Shoes
Co-Ambulation

Counterpoint

Draft Resistance Seattle News

Fed Up

Helix

HOW BTRY TIMEs

Laughing Bear

Lewis-McChord Free Press

Lilith

Northwest Passage

Pandora

Puget Sound Sound Off
Retaliation, The
Sacstrated
Shitlifer
Tacoma Movement News
Civilian Conservation Corps (CCC) Newspapers 1933-1942
Kimble Northwest History Database (Clippings)
The Labor Press Project – Pacific Northwest Labor and Radical Newspapers 
Japanese American Historical Newspapers Collection
Pacific Northwest Regional Newspaper and Periodical Index
American Prison Newspapers, 1800-2020
Swedish American Newspapers
Small Town Papers
Old Fulton Postcards
Newspaper Abstracts – Washington
For Obituary Indexes, transcriptions, and other death/obituary information from historic newspapers, please check out the Obituaries page.
Other Free Sites:
Bainbridge Island
Blaine
Camas
Home
Lakebay
Olympia
Port Townsend
Seattle
Spokane​
Tacoma
Walla Walla
Woodinville
Subscription or Pay Sites:
Ancestry.com:
There are currently 21 publications available on this site. See all the titles at Ancestry – Washington Newspapers
Genealogy Bank:
There are currently 204 publications available on this site. See all the titles at Genealogy Bank – Washington Newspapers
Newspaper Archive:
There are currently 100 publications available on this site. See all the titles at Newspaper Archive – Washington
Newspapers.com:
There are currently 114 publications available on this site. See all the titles at Newspapers.com – Washington. 
And Finally:
You also need to visit the Newspapers at the Washington State Library site from time to time, which can tell you what is occurring in the state with regard to online and other format newspaper availability.
Please note – even more may be available via a local or state library where a library card is required.  And of course, there is always microfilm for those that have not been made available online as yet.
For more links for different states, provinces, and countries – please see the Newspaper Links page on this website.