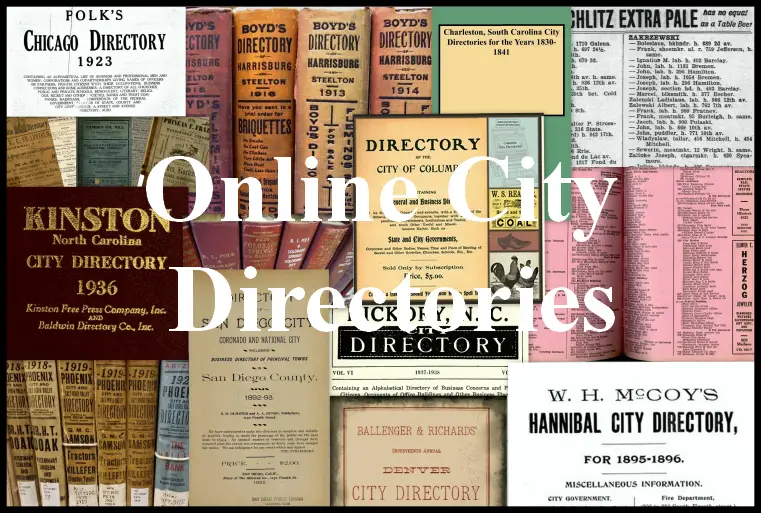 City and business directories are available online from all over the U.S. and Canada and are what I consider another important set of information that can assist you in advancing your family history and genealogy research.
So, what kinds of directories are available to the researcher?  Naturally city and business directories, but also telephone directories, and alumni, farm, lodge, rural, and social directories.
What can you find in these records? How about:
Full names, including middle names

Spouse name

Occupation

Widows, working women, and adult children at home.

Maps

Businesses (and index to advertisers).

Addresses and maps of churches, schools, funeral homes, cemeteries, post offices, courts, hospitals, benevolent associations, and newspapers.

Whether a woman is a widow (including the

name of her

husband).

List of marriages and deaths of the previous year.

Death date.

etc.​
I have been using city directories as a mainstay of my ancestor research ever since I started my family history search. Here is a list of various websites where I found useful information in my own research. They all have city and other directories available for you to search and browse online. Some are free, and some require a subscription:
I became excited about San Francisco city directories when I had a Footnote (now Fold3) subscription many years ago. They had a nice collection of older San Francisco directories. Fold3 requires a subscription. And they have thousands of directories from about half of the U.S. states.
Internet Archive has a sizable number of free directories available. Just enter "city directory" with the quotes in the search box and depress the "Go" button. At the time of the publication of this post, there are 3,168 results. You obviously would wish to refine the search by entering your city of interest, but it tells you that there are a lot of city directories available to you.
Don's List has a nice collection of directories and is free and browsable. There are also international directories available.
Ancestry.com has a large collection of directories that do have an index, so that a surname or complete name can be entered and one can find an ancestor in the results provided. The page where the person's name exists is made available and all one needs to do is scan through the image to find the subject person. Ancestry requires a subscription.
Distant Cousin (now defunct) also had a search and browse capability for city directories which is free. You might see this site come up in lists of city directory websites.
HathiTrust and Google Books have a large number of directories that are available for you to search and browse. In particular, HathiTrust has many from the 19th Century.
My Heritage has recently been adding a large amount to is online city directory collection. It is available via a subscription.
FindMyPast also has directories of many varieties available via subscription and is a very good source of not only the U.S. and Canada, but also the UK, Ireland, Australia, and New Zealand.
England and Wales trade directories are available for free at the University of Leicester Historical Directories project. It has browsing and search capability.
Cyndi's List has a long list of smaller collections of directories online provided by local libraries and historical societies. Definitely worth looking at the free resources as well as those listed that are available via subscription sites.
Miriam Robbins has accumulated a number of links to city directories, which she has made available at Online Historical Directories.
The Ancestor Hunt started cataloging the links to FREE (and only free) city and other directories in 2020. Check out the Directories tab for the link lists by state and province. There are currently over 27,000 free directories available and listed on this site.
So try out all of these options – there are plenty for you to choose from. And city directories are really fun to search for. And rewarding.
Good Luck and Happy Hunting!