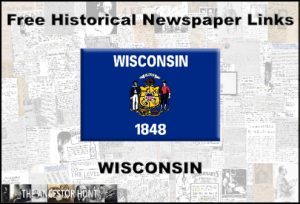 Wisconsin is one of the states that does not have a single central online state repository for searching historical newspapers. Several states use the Library of Congress Chronicling America site as their main central online site for searching old newspapers and currently, Wisconsin has a few newspapers available on that site. There are some free online newspapers available on other sites and there are collections available on subscription sites. Below is a list of where the titles are stored and the link so that you can access them. 
There are over 3,400 newspapers that have been published in the Badger State – certainly not all of them are searchable online. But there are quite a few that are indeed available. So go for it – find your Wisconsin ancestors and all the interesting articles that capture the stories of their lives. 
Please note that I have not always entered the dates that are included in the collections, as I suspect they will change as more items are digitized. Also, I suspect that some of these links may change over time – so if there is a dead link – please use your favorite search engine to find their new location. 
(Updated July 2023; recently added links are in BOLD)
Wisconsin Historical Newspapers
Free Sites:
Statewide Collections:
Chronicling America – Wisconsin Newspapers
Google News Archive
Archive of Wisconsin Newspapers (Wisconsin residents only)
Amery Free Press (1932-1949 & 2005-current)

Baraboo News Republic (1858-1886 & 2005-current)

Barron News-Shield (1876-19630
Beaver Dam Argus (1864-1866)
Beaver Dam, Dodge County Citizen (1859-1869)

Belleville Recorder (1887-1923)

Benton Advocate (1894 – 1900)
Benton Mining Times (1901 – 1959)

Black River Falls, Badger State Banner (1868-1926)

Black River Falls, Banner Journal (1926-1976 & 2005-current)

Black River Falls, Jackson County Banner (1867-1868)

Black River Falls, Jackson County Journal (1889 – 1926)

Black River Falls, Melrose Chronicle (1896 – 1924)

Brodhead Independent (1861-1900)

Cadott Sentinel – 12/27/2012
Columbus Republican (1872-1874)

Evansville Badger (1898-1906)

Evansville Enterprise (1895-1911)

Evansville Review (1899-1932 & 2005-current)

Evansville Tribune (1899-1908)

Florence Mining News (1881-1894 & 2005-current)

Fort Atkinson, Daily Jefferson County Union (1870-1918 & 2005-current)

Hartland News and Dairyman (1894-1920)

Kiel, Tri-County Record (1918-1974)

Marinette and Peshtigo Eagle (1871-1896)

Mukwonago Chief – (1889-1926 & 2005 to 2017)

New Glarus Post (1912-1933)

New London Press/Republican/Times (1879-1906)

Pittsville, Yellow River Pilot – (1897-1904)

Prairie du Chien Leader (1857-1860)

Prairie du Chien Union (1864-1896)

Prairie du Chien, Courier Press (1852-1922 & 2005-current)

Random Lake Times (1918-1975)
Random Lake, The Sounder (1975-current)

Rib Lake Herald (1902-1920)

Stanley Republican (1965-1984 & 2005-current)

Union Grove Enterprise (1879-1904)
Watertown Democrat (1854-1869)

Waupun Times (1857-1903)
County and Library Collections:
​Barron County
Rice Lake Public Library
Rice Lake Chronotype

Rice Lake Chronotype And The Rice Lake Times

Rice Lake Chronotype And Rice Lake Independent

Barron County Chronotype 

Rice Lake Times

The Barron County Chronotype

The Chronotype 

The Rice Lake Chronotype 
Chippewa County
Chippewa Falls Public Library
Chippewa Falls Democrat

Chippewa Herald

Chippewa County Independent

Chippewa Union And Times

Daily Independent 

Independent

Chippewa Journal Tribune
G.E. Bleskacek Family Memorial Library
The Bloomer Advance
Bloomer Workman
Columbia County
Kilbourn Public Library
Wisconsin Dells Events 

Kilbourn Weekly Events 

Mirror Gazette 

Dells Events 

Wisconsin Mirror 

The Kilbourn Weekly Illustrated Events

Kilbourn City Guard

Mirror 

Illustrated Events 

Kilbourn City Mirror 

The Telegraph Courier 
Dane County
Dunn County
Menomonie Public Library
Dunn County News

Dunn County Lumberman
Forest County
Crandon Public Library
Forest Republican

Forest Echo

Northern Citizen

Forest Leaves

North Crandon Reporter

Forest County Chief

Forest County Spy
Jefferson County
Irving Young Memorial Library
Whitewater Register

The Whitewater Register

The Whitewater Gazette

The Whitewater Press

The Gazette

The Whitewater Chronicle

Whitewater Gazette

Whitewater Press

The Weekly Gazette

The Chronicle-Extra
Juneau County
Elroy Public Library
County Line 

County Line Connection 

Elroy Chronicle 

Elroy Head Light 

Elroy Kendall Wilton Tribune Keystone 

Elroy Leader 

Elroy Leader Tribune 

Elroy Tribune 

Elroy Tribune And Plain Talker 

Elroy Union 

Juneau County Argus 

Juneau County Chronicle 

Juneau County Plain Talker

Keystone Reporter 

Messenger of Juneau County 

Plain Talker 

Trail Communities Messenger 

Tribune 

Tribune Keystone 

Wisconsin Statesman
Sawyer County
Lac Courtes Oreilles Ojibe Community College
Anishinabe Aki
Bimikawe
Chippewa Sun
Lac Courte Oreilles Community Journal
Lac Courte Oreilles Elders Corner
Lac Courte Oreilles Journal
Lac Courte Oreilles Journal American
Lac Courte Oreilles Journal Times
Lac Courte Oreilles News
Lac Courte Oreilles Newspaper
Lac Courte Oreilles Times
Lac Courte Oreilles Today
Lac Courte Oreilles Tribal News and Report
News From Indian Country, The Journal
Ojibwe Times
Rez Times the magazine
Sawyer County Times
The Journal, News from Indian Country
The Times, Lac Courte Oreilles
We Sa Mi Dong
Wisconsin Rez Times
Algoma Public Library Newspaper Archives
Ahnapee Record

Algoma Herald

Algoma Press

Algoma record

Algoma Record Herald
Brandon Public Library (library card required)
Door County Library Newspaper Archive
Door County Advocate 1862-1897 

Door County Advocate 1918-June 1979

Door County Democrat 1893-1918 

Door County News 1914-1939  

Port Light 1943-1945

The Advocate 1897-1912   

The Democrat 1892-1895  

The Expositor 1873-1877  

The Expositor Independent 1877-1880  

The Independent 1886-1890  

The Republican 1890-1892   

The Sturgeon Bay Advocate 1912-1918 

Weekly Expositor Independent 1880-1886  
Lake Geneva Public Library Newspaper Indices
Enquirer

Farmer-Herald

Gillett Times

Herald

Lena Enterprise

Maple Valley Educator

Militiaman

Oconto County Chronicle

Oconto County Reporter

Oconto County Reporter Enterprise

Oconto County Reporter Enterprise-Enquirer

Oconto County Times-Herald

Oconto Falls Herald

Oconto Lumberman

Oconto Pioneer

Suring Sun

Union Farmer-Herald
Waukesha County Freeman Digital Archives 
Cutover Land Bulletin (1846–1922)

Daily Freeman (1883–1890)

The Daily Freeman and Republican (1890)

The Evening Journal (1890)

The Republican (1887)

The Republican-Freeman (1888–1898)

Waukesha County Democrat (1854–1875)

Waukesha Daily Freeman (1882–1955)

Waukesha Democrat (1848–1852)

The Waukesha Freeman (1846–1945)

Waukesha Freeman (1882–1883)

Waukesha Freeman and Republican (1890)

The Waukesha Journal (1889–1891)

The Waukesha Plaindealer (1865–1873)
Student Collections:
Appleton High School – Appleton
Beloit College – Beloit
Carroll University Student Newspaper Collection – Waukesha
Concordia University – Mequon
Eau Claire High School
Edgerton High School – Edgerton
Eisenhower High School – New Berlin
James Madison Memorial High School – Madison
Lakeland University – Sheboygan
Lawrence University – Appleton
Madison Area Technical College – Madison
Madison Central High School – Madison
Marian University – Fond du Lac
Milwaukee-Downer College – Milwaukee
Northland College – Ashland
Marquette University – Milwaukee
Milton College – Milton
Oconto High School – Oconto
Ripon College – Ripon
St. Catherine's High School – Racine
St. Norbert College – De Pere
University of Wisconsin – Eau Claire
University of Wisconsin – Green Bay
University of Wisconsin – La Crosse
University of Wisconsin – Madison
University of Wisconsin – Milwaukee
University of Wisconsin – Oshkosh
University of Wisconsin – Platteville
University of Wisconsin – River Falls
University of Wisconsin – Stevens Point
University of Wisconsin – Stout
University of Wisconsin – Superior
University of Wisconsin – Whitewater
Viterbo University – La Crosse
Miscellaneous Collections and Indexes:
UW-Stout Area Research Center Newspaper Index
Barron County News-Shield

Boyceville Press

Chetek Alert

Colfax Messenger

Cumberland Advocate

Dunn County News

Dunn County Pictorial Messenger

Durand Courier Wedge

Durand Weekly Times

Knapp News

Menomonie Nordstern

Menomonie Shopper

Menomonie Times

Pepin County Courier

Pepin County Mirror

Rice Lake Chronotype

Rice Lake Leader

Turtle Lake Bugle

Turtle Lake Times
Independent Voices – Alternative Newspapers
Amazon, The

Bread & Roses

Camp McCoy Defense Committee

Connections

Conscription Newsletter

Draft Call, The

Draft News
Draft Resistance Clearing House
IT

Madison Kaleidoscope

Margins
NCC Worklist
Quixote
Sanity (Madison)
Civilian Conservation Corps (CCC) Newspapers 1933-1942​
Western Wisconsin Civilian  Conservation Corps Camp Newsletters
Fairchild – The Globe Trotter, 1935-1937
Fairchild – The Reveille, 1934-1937
Fifield – Riley Creek Rag, 1935-1937
Fifield – Sailor Lake Log, 1935
Fifield – The Life of Riley, 1939
Glen Flora – The Rusketeer, 1935-1937
Hayward – Northern Pine Whisper, 1935-1936
Loretta – Chippewa Camp Chatters, 1935
Loretta – Loretta Ledger, 1937
Loretta – Woodland Echoes, 1934-1935
Nelson – The Scatter Gun, 1935-1937
Nelson- The Duck Call, 1940
Perkinstown – The Camp Perkinstown Log, 1935
Perkinstown – The Chequamegon Forester, 1940
Perkinstown – The Perkinstown Pepper Pot, 1936-1937
Perkinstown – The Rookie Times, 1938-1940
Phillips – The Roundup, 1937
Phillips – The Voice of 1610, 1934-1935
Westboro – Mondeaux Plague, 1934
Westboro – Mondeaux-Vous, 1935-1936
Westboro – The Camp Jump River News, 1935-1936
Westboro – The Daily Astonisher, 1934
Westboro – The New Muskie, 1936
Winter – The Moose Call, 1935-1937
Old Fulton Postcards
Civil War Newspaper Articles, 1860-1865 (clippings)
Wisconsin Obituaries, Local History and Biography Articles 1836-1948 (clippings)​
Newspaper Abstracts – Wisconsin
​
For Obituary Indexes, transcriptions, and other death/obituary information from historic newspapers, please check out the Obituaries page.
Other Free Sites:
Appleton
Beloit
Delavan
Eau Claire
Green Bay
La Crosse
Madison​
Milwaukee
Oneida
Superior
Williams Bay
Wisconsin Rapids
Subscription or Pay Sites:
Ancestry.com:
There are currently 178 publications available on this site. See all the titles at Ancestry – Wisconsin Newspapers
Genealogy Bank:
There are currently 247 publications available on this site. See all the titles at Genealogy Bank – Wisconsin Newspapers
Newspaper Archive:
There are currently 834 publications available on this site. See all the titles at Newspaper Archives – Wisconsin
Newspapers.com:
There are currently 320 publications available on this site. See all the titles at Newspapers.com – Wisconsin 
And Finally:
You also need to check out the Wisconsin Historical Society site, which can tell you what is occurring in the state with regard to newspaper projects. If you are a Wisconsin state resident, check out Badger Link for newspaper resources as well.
Please note – even more may be available via a local library where a library card is required. And of course, there is always microfilm for those that have not been made available online as yet.
For more links for different states, provinces, and countries – please see the Newspaper Links page on this website.