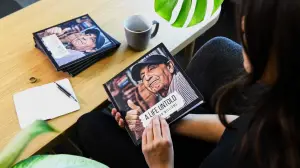 For those of you who follow The Ancestor Hunt, you know that I rarely if ever promote products.  However, I do like to make you aware of new offerings that you might wish to explore.
I have always wanted to write my autobiography, not to mention writing biographies of some of my favorite ancestors. But I keep procrastinating, which is kinda dumb.
I have come across an Australian company who provides a product/service that makes it really easy to do just that.  It is called "A Life Untold" and the founder, Josh Kates was kind enough to provide me with an interview, which follows:
Tell me a little about A Life Untold
A Life Untold's mission is to make it easy, fun and affordable for absolutely anyone to turn their life story into a beautifully printed autobiography. Most people that have tried writing their life story never finish. Others would love to help their parents and grandparents pass down their stories, but don't know how. That's where A Life Untold comes in. We help "regular people" who want to capture their life story for their children, grandchildren, great grandchildren and beyond!
What prompted you to start A Life Untold?
When my daughter Eve was born my wife and I got into a very sentimental mood and wanted to record our parents' life stories for her (and to be honest, for us too). We wanted these stories to be written down, so they could be retold and remembered for years to come. We couldn't find a good way to do that so decided to interview them and publish their answers into a book. We love the books (and so do our parents), so I took the idea and created A Life Untold.
How does it work?
We have a simple 2 step process. The first step is to answer 101 thought-provoking questions about your life through our online interview. Our interview covers a broad range of "life chapters" like childhood, work, love and more philosophical questions as well, but you can always add your own questions as well to make sure nothing is missed. Alongside your written answers, you can also include photos which we think is an important part of telling your story.
After you've finished the interview, A Life Untold takes over and combines all the questions, answers and photos to create a unique and professionally designed autobiography of your life. After the final draft is approved, we'll print your book in stunning quality and deliver it to your home. We'll also give you a free digital e-book so you can easily share your story with friends and family over email. And of course, there's also the option to order extra printed copies.
What has been the response to A Life Untold so far?
The response has been truly incredible. The most consistent feedback we get is one of gratitude. We have children and grandchildren write to us saying how much they've learned about their family members. We have people write to us about how simple and therapeutic the writing process has been for them. The feedback has been extremely motivating. We're now helping countless people all over the world capture their life stories in books that will be treasured by their family for generations. It's a privilege to be helping people in such a personal and meaningful way.
How many pages is an average book based on your experience?
​
This is an interesting question! We've noticed that some people get too caught up in having the right number of pages before their book is "complete". This is how we look at it. Imagine for a second that you owned a book written by your grandmother. In that book is an interview with her answering questions about her life – everything from her relationship with her parents, to her thoughts on being a mother and even how she met and fell in love with your grandfather. Alongside her interview is a curated collection of photos with her describing what's going on in each. How much would you like to own that book? Would you like to own it any less if it was 100 pages rather than 200 pages? I'm sure you would love that book whatever the length!
The truth is, we've published books that are 50 pages and others that are 300 pages. The average book is probably around 100 pages, which includes both text and photos. At the end of the day, the length of the book is totally up to the author, we don't restrict the number or words, pages or photos.
Are there many people who sign up, and then drag their feet in responding to all the questions? Or never finish?
This does happen occasionally, but in each case our team will proactively reach out to provide inspiration and assist people in finishing their books. There are a few strategies that we've found most helpful for people.
When you get started with A Life Untold, we recommend jotting down your first thoughts for each of our interview questions. By doing this you'll finish answering all our questions in a short amount of time, and at that stage you've "finished" your book. That's a very motivating feeling! After that you can return to the interview as many times as you like to edit the stories you've already written. If you follow this strategy, I guarantee you will end up completing your book.
The other strategy that we know is very effective is to ask one of your friends or family members to use our questions to interview you. In these cases we recommend setting aside at least 3 hours to get through everything. Our questions will spark a wonderful conversation and the interview should be recorded so it can be typed up later either by the author or the interviewer.
Have you changed the set of questions much since you started this?
When my wife and I first created the list of questions to interview our own parents, we did it by writing down every single question we ever wanted to know about our parents. These questions created the foundation of the interview that people see today. As we grew as a company our questions changed based on customer feedback. We also allow people to add their own questions so nothing important in their life story is missed. Our philosophy has always been to have our questions be open-ended so the answers are as diverse as people's lives.
How much does it cost?
Normally, the price is $199, but we have an exclusive offer for The Ancestor Hunt readers! You can claim a 10% discount when ordering A Life Untold which brings the price to $179 (down from $199). To claim this discount, just apply the coupon code HUNT on the checkout screen.
The price includes access to our online interview as well as your life story designed, printed and delivered to your door. You will also receive a digital e-book so you can easily share your story with friends & family over email. And of course, there's also the option to order extra copies at a discounted rate.
Where can I find out more?
You can find all the details on our website by clicking here: www.alifeuntold.com
Do many people decide later to buy additional books after they have received their first one?
The first book is included as part of every purchase. Alongside the printed book we also give every customer a digital e-book so they can easily share their story with friends and family over email. And of course, many people like extra printed copies to give to their family and friends which we can print at a discounted rate.
Do you have any new offerings that you have in mind besides the autobiography book?
Yes. We're looking at helping people create "tribute books" which will allow people to celebrate the life of a loved one through the stories of family and friends. One of the things we get asked a lot is if A Life Untold's process will work to capture someone's life story that has already passed away. Our Tribute Book aims to allow you to do just that. Complete information and the roll out of Tribute Books will occur later this year.
---
Thank you Josh, for spending some time with me.  I think I may just dive in and make my story "A Life Told". I might be just inspired enough to actually do this!