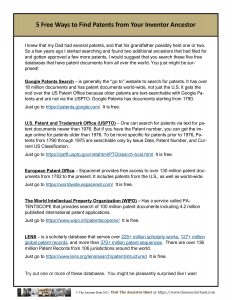 Was your ancestor an inventor? Did they apply for and receive a patent? There are several databases you can search. Google Patents is the most well-known, but there are four others you might want to try out.  All are free to search.
To obtain the one-page Quick Sheet pdf for easy reference of where to search for patent documents, you can download it by clicking on the Download button below:
For all the previously published Quick Reference Guides, click on QuickSheets. 
Good Luck and Happy Hunting!