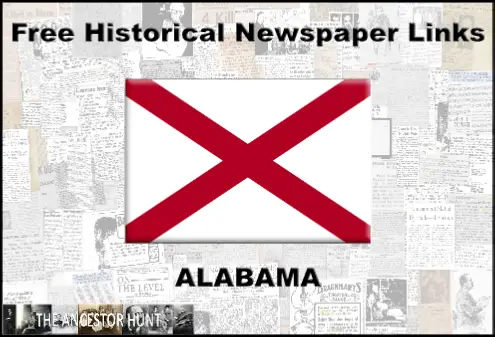 Alabama is one of the states that does not have a central online repository for searching historical newspapers. Several states use the Library of Congress Chronicling America site as their main central online site for searching old newspapers. Alabama does have a few online newspapers available on that site. Alabama currently has its online availability from different websites. Many are free and some require a subscription. Below is a list of where the titles are stored and the link so that you can access them. 
There are over 2.000 newspapers that have been published in the Yellowhammer State. But there are quite a few that are indeed available. So go for it – find your Alabama ancestors and all the interesting articles that capture the stories of their lives. 
Please note that I have not always entered the dates that are included in the collections, as I suspect they will change as more items are digitized. Also, I suspect that some of these links may change over time – so if there is a dead link – please use your favorite search engine to find their new location. 
(Updated July 2023; recently added links are in BOLD)
Alabama Historical Newspapers
Free Sites:
Statewide Collections:
Chronicling America – Alabama Newspapers
Google News Archive
Alabama Civil War and Reconstruction Newspapers
Advertiser and Register

Advocate and American

Alabama Beacon

Alabama Reporter
Alabama State Journal

Alabama State Sentinel

Army Argus and Crisis

Athens Post

Autauga Citizen

Bangor Broad Axe

Birmingham Iron Age

Bladon Springs Herald

Bluff City Times

Butler News

Cahaba Gazette

Chambers Tribune

Charleston Tri-Weekly Courier
Cherokee Advertiser
Choctaw Herald

Christian Herald

Claiborne Southerner

Clarke County Democrat

Clayton Banner 

Conecuh-Escambia Star

Confederate States

Daily Confederation

Daily Dispatch
Daily Echo

Daily Huntsville Confederate

Daily Mercury

Daily Mississippian

Daily Montgomery Ledger

Daily Selma Times

Daily State Sentinel

Democrat

Democratic Watchtower

East Alabama Monitor
Era and Star

Eufala Weekly News

Eufala Weekly Times

Eufaula Express

Exponent

Florence Gazette

Florence Times-Journal
Gadsden Times

Greenville Advocate

Greenville Weekly Advocate

Huntsville Confederate

Huntsville Weekly Democrat

Huntsville Weekly Independent

Independent American

Independent Monitor

Independent Observer

Jacksonville Republican

Lauderdale Times

Livingston Journal

Marengo News-Journal

Marion Commonwealth

Mobile Advertiser and Register

Mobile Daily Advertiser and Register

Mobile Daily News

Mobile Daily Tribune

Mobile Evening News

Mobile Evening Telegraph

Mobile Morning News

Mobile Register and Advertiser

Mobile Republican

Mobile Weekly Advertiser

Mobile Weekly Register

Mobile Weekly Tribune

Montgomery Daily Advertiser

Montgomery Daily Mail

Montgomery Daily Post

Montgomery Weekly Advertiser

Montgomery Weekly Mail

Montgomery Weekly Post

Moulton Advertiser

North Alabamian

North Alabamian and Times

Observer

Opelika Observer

Opelika Weekly Era and Whig
Opelika Weekly Locomotive
Opelika Weekly Observer

Opelika Weekly Times

Our Mountain Home

Pickens American

Russell Register

Selma Daily Reporter

Selma Evening Reporter

Selma Morning Dispatch

Selma Morning Reporter

Selma Weekly Reporter

Shelby Guide

Shelby Sentinel

South Western Baptist

South Western Baptist

Southern Advertiser

Southern Advocate

Southern Argus

Southern Champion

Southern Home Journal

Southern Messenger

Southern Plantation

Southern Republic

Southern Signal

Southern Statesman

Southern Watchman

Spectator

Spirit of the South

St. Clair Diamond

State Rights Advocate

The Alabama Beacon

The Eutaw Whig and Observer

The Independent

The Selma Daily Messenger

The Weekly Issue

Troy Messenger

Tuscaloosa Observer

Tusekegee Weekly News

Union Springs Herald

Union Springs Herald and Times

Union Springs Times

United South

Universalist Herald

Weekly Advertiser

Weekly Advertiser and Register

Weekly Montgomery Confederation

West Alabamian

Wetumpka Spectator

Wilcox News and Pacificator
County and Library Collections:
Birmingham Public Library Newspapers
Birmingham Public Library Newspaper Clippings
The Baldwin Times
The Onlooker
Fairhope Courier
Eastern Shore Courier
Guntersville Public Library Historic Newspapers
The Advertiser-Gleam
The Guntersville Democrat
Huntsville–Madison County Newspaper Index 
Student Collections:
Air University – Maxwell AFB
Alabama State University – Montgomery
Athens State University – Athens
Auburn University – Auburn
Auburn University – Montgomery
Birmingham Southern College – Birmingham
Coffee High School – Florence
Faulkner University – Montgomery
Huntingdon College – Montgomery
Jacksonville State University – Jacksonville
Judson College – Marion
Montevallo High School – Montevallo
Oakwood College – Huntsville
Samford University – Birmingham
Shelton State Community College – Tuscaloosa
Sparkman High School – Harvest
Spring Hill College – Mobile
Troy University – Troy
Tuskeee University – Tuskegee
University of Alabama – Birmingham
University of Alabama – Huntsville
University of Alabama – Tuscaloosa
University of Mobile – Mobile
University of Montevallo – Montevallo
University of North Alabama – Florence
University of South Alabama – Mobile
University of West Alabama – Montgomery
Miscellaneous Collections and Indexes:
Civilian Conservation Corps (CCC) Newspapers 1933-1942
Independent Voices – Alternative Newspapers
Old Fulton Postcards
Agriculture and Rural Life Newspapers
For Obituary Indexes, transcriptions, and other death/obituary information from historic newspapers, please check out the Obituaries page.
Other Free Sites:
Aldrich
Birmingham
Columbiana
Dothan
Fort Payne
Jacksonville
Mobile
Montgomery
Rainsville
Subscription or Pay Sites:
Ancestry.com:
There are currently 24 publications available on this site. See all the titles at Ancestry – Alabama Newspapers
Genealogy Bank:
There are currently 152 publications available on this site. See all the titles at Genealogy Bank – Alabama Newspapers
Newspaper Archive:
There are currently 99 publications available on this site. See all the titles at Newspaper Archive – Alabama
Newspapers.com:
There are currently 569 publications available on this site. See all the titles at Newspapers.com – Alabama 
And Finally:
You also need to check out the Alabama Newspapers on Microfilm Database site, which can tell you what is happening in the state with regard to the newspapers that are available via microfilm.
Please note – even more may be available via a local library where a library card is required. And of course, there is always microfilm for those that have not been made available online as yet.
For more links for different states, provinces, and countries – please see the Newspaper Links page on this website.