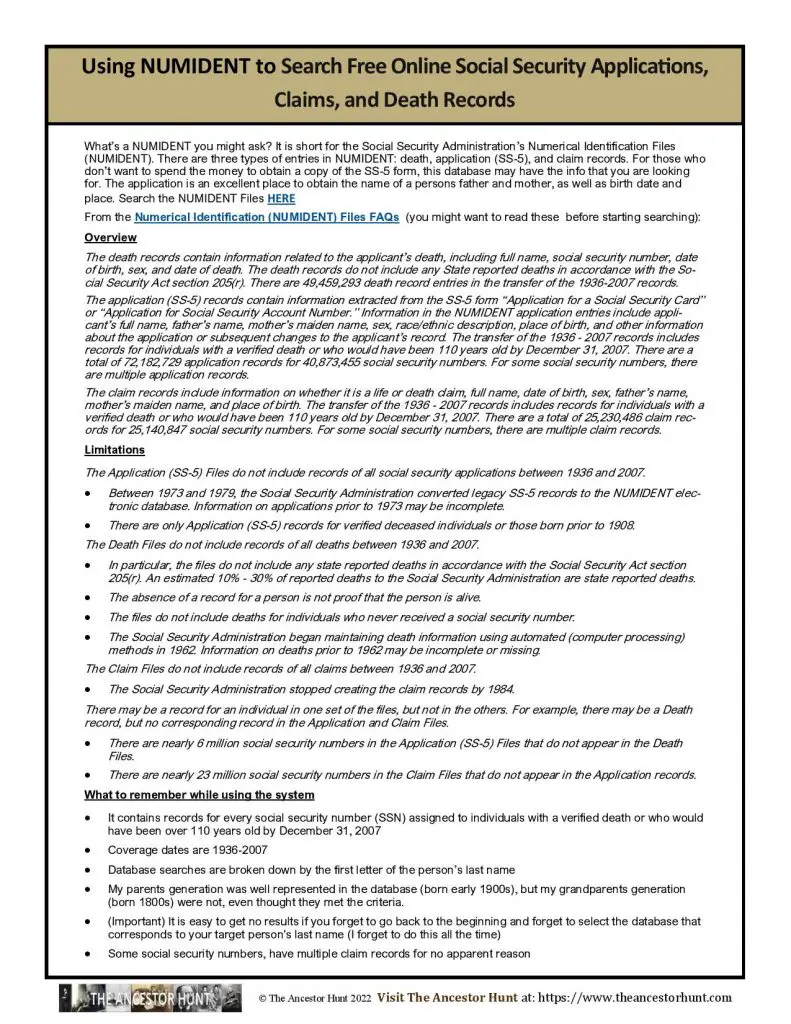 There are 3 types of information available online from the National Archives Social Security Numident files, which is a computerized database that contains SS-5 Application data, Social Security Claims information, and Death Records.
There are almost 150 million records available to search.
Here's a summary description from the Social Security Administration and the National Archives:
"This series contains records for every social security number (SSN) assigned to individuals with a verified death or who would have been over 110 years old by [date]. There are three type of entries in NUMIDENT: application (SS-5), claim, and death records. A NUMIDENT record may contain more than one entry. Information contained in NUMIDENT records includes each applicant's full name, SSN, date of birth, place of birth, citizenship, sex, father's name, mother's maiden name, and race/ethnic description (optional). NUMIDENT includes information regarding any subsequent changes made to the applicant's record, including name changes and life or death claims. The death records in NUMIDENT do not include any State reported deaths in accordance with the Social Security Act section 205(r). There are 72,182,729 SS-5 records entries; 25,230,486 claim record entries; and 49,459,293 death record entries."
Below is a link to a QuickSheet that contains many more details about what you can find from these records. To obtain the one-page Quicksheet pdf for easy reference of what information is available, you can view or download it by clicking on the button below.
For all the previously published Quick Reference Guides, click on QuickSheets. 
Good Luck and Happy Hunting!