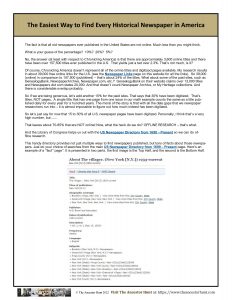 The fact is that all old newspapers ever published in the United States are not online. Much less than you might think.
So let's just say for now that 15 to 30% of all U.S. newspaper pages have been digitized. Personally, I think that's a very high number, but……
That leaves about 70-85% that are NOT online! Now, what the heck do we do? Offline research – that's what. And the Library of Congress helps us out.
Download the Quicksheet PDF
Below is a link to a QuickSheet that shows you how to find where almost all newspapers ever published in the U.S. are held – either online, in a library or archive, original newsprint, or microfilm. To obtain the two-page Quicksheet pdf for easy reference, you can view or download it by clicking on the Download button below.
For all the previously published Quick Reference Guides, click on QuickSheets. 
Good Luck and Happy Hunting!