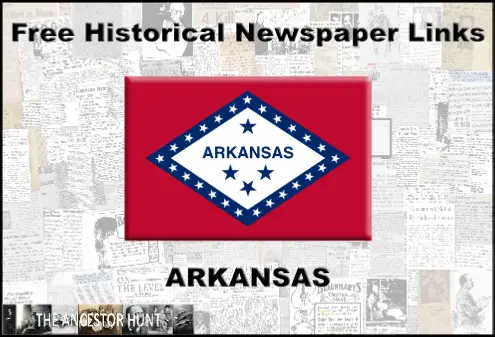 ​Arkansas is one of the states that does not have a single central online state repository for searching historical newspapers. Several states use the Library of Congress Chronicling America site as their main central online site for searching old newspapers and currently, Arkansas has been adding quite a few newspapers on that site. There are several free online newspapers available on other sites and there are collections available on subscription sites. Below is a list of where the titles are stored and the link so that you can access them.
There are almost 2,000 newspapers that have been published in the Natural State – certainly not all of them are searchable online. But there are several that are indeed available. So go for it – find your Arkansas ancestors and all the interesting articles that capture the stories of their lives. 
Please note that I have not always entered the dates that are included in the collections, as I suspect they will change as more items are digitized. Also, I suspect that some of these links may change over time – so if there is a dead link – please use your favorite search engine to find their new location. 
(Updated July 2023; recently added links are in BOLD)
Arkansas Historical Newspapers
Free Sites:
Statewide Collections:
Chronicling America – Arkansas
Google News Archive
Arkansas Gazette

Arkansas Democrat

Arkansas Traveler

Northwest Arkansas Times

Grapevine
Online Arkansas Newspapers – some have archives, some do not
County and Library Collections:
Sebastian County
Fort Smith Public Library
Arkansas Developer

Belle Grove School Journal

Daily News Record

Daily Southwest American

Entertainment Fort Smith

Evening Call

Fort Smith Bulletin

Fort Smith Daily Herald

Fort Smith Daily Time and Herald

Fort Smith Elevator

Fort Smith Enterprise

Fort Smith Herald

Fort Smith Herald and New Elevator

Fort Smith New Era

Fort Smith News Record

Fort Smith Southwest American

Fort Smith Standard

Fort Smith Times Record

Fort Smith Tri Weekly Bulletin

Fort Smith Tri Weekly Herald

Fort Smith Weekly Herald

Fort Smith Weekly New Era

News Record

Ouachita Conference Journal

South West Independent

Southwest American

Southwest Times Record

Sun

Thirty Fifth Parallel

Times Record

Tri Weekly Fort Smith Herald

War Times

Weekly New Era

Western Independent

Wheelers Daily Independent

Wheelers Independent

Wheelers Western Independent
The Quapaw Quarter Chronicle
Quapaw Quarter Association
Student Collections:
Arkansas State University – Jonesboro
Arkansas Tech University – Russellville
Bentonville High School – Bentonville
Black River Technical College – Pocahontas
Central Baptist College – Conway
Commonwealth College – Mena
Harding University – Searcy
Henderson State University – Arkadelphia
John Brown University – Siloam
Little Rock Central High School – Little Rock
Lyon College – Batesville
Northwest Arkansas Community College – Bentonville
Ouachita Baptist University – Arkadelphia
Philander Smith College – Little Rock
Southern Arkansas University – Magnolia
University of Arkansas – Fayetteville
University of Arkansas – Little Rock
University of Central Arkansas – Conway
University of the Ozarks – Clarksville
Williams Baptist University – Walnut Ridge
Miscellaneous Collections and Indexes:
Independent Voices – Alternative Newspapers
American Prison Newspapers, 1800-2020
Civilian Conservation Corps (CCC) Newspapers 1933-1942​
Old Fulton Postcards
Newspaper Abstracts – Arkansas
For Obituary Indexes, transcriptions, and other death/obituary information from historic newspapers, please check out the Obituaries page.​​
Other Free Sites:
Camp Pike
Denson
Dyess
Fayetteville
Fort Chaffee
Little Rock
McGehee
Rohwer
Stuttgart
Subscription or Pay Sites:
Ancestry.com:
There are currently 21 publications available on this site. See all the titles at Ancestry – Arkansas Newspapers
Genealogy Bank:
There are currently 236 publications available on this site. See all the titles at Genealogy Bank – Arkansas
Newspaper Archive:
There are currently 57 publications available on this site. See all the titles at Newspaper Archives – Arkansas
Newspapers.com:
There are currently 217 publications available on this site. See all the titles at Newspapers.com – Arkansas 
And Finally:
You also need to visit the Arkansas Digital Newspaper Program, which can tell you what is occurring in the state with regard to newspaper projects. They also have nice searchable databases for microfilm-based collections throughout the state.
Please note – even more may be available via a local library where a library card is required. And of course, there is always microfilm for those that have not been made available online as yet.
For more links for different states, provinces, and countries – please see the Newspaper Links page on this website.