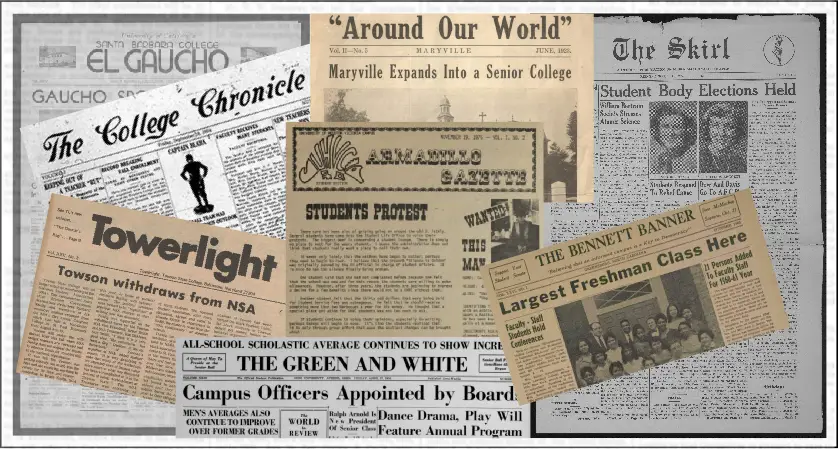 As you know, if you have visited this site previously, I have been presenting historical newspaper links to Free online collections in Canada over the past few years. To see all these collections, click on the Newspaper Links tab at the top of this web page.
Since the college/university experience is a sizable part of one's life, it makes sense when we are searching for ancestor information, that we include these student publications in our research. Below is a list of links, presented by province and institution that is free for you to search.
Colleges, universities, specialty schools, and a few high school newspapers are included in this list. Hopefully researching these collections will uncover some interesting facts and stories about your ancestors while they were a student.
Please note – some of these have only recent archives because they likely have not had the funding to digitize their older issues of the student newspapers. But the majority do have digitized archives of their older issues, and of course, like all digitized collections, there may be date gaps. I frankly was pleasantly surprised that there were as many robust digital archives as there are. This is a rapidly expanding area of newspaper digitization, so the list will change frequently. And as always, I am sure that I missed some. Please let me know links of ones that I have missed in the Comments section.
For your information, these Student Collections will also be included in the province Historical Newspaper Link Summaries that I regularly update.
If there are duplicate listings, that is because the same newspaper title is available in more than one online collection.
Alberta
British Columbia
Manitoba
New Brunswick
Newfoundland and Labrador
Nova Scotia
Ontario
Prince Edward Island
Quebec
Saskatchewan
Good Luck and Happy Hunting!