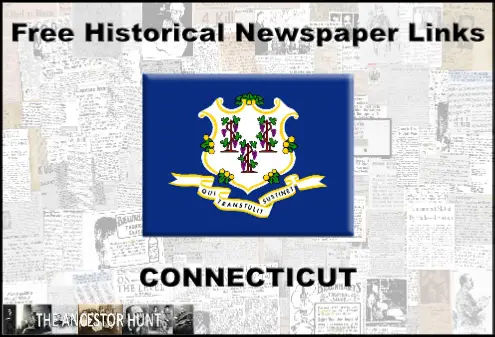 Connecticut has a sizable state repository for searching older historical newspapers, and currently they use the Library of Congress Chronicling America site as another site for searching old newspapers, although there are a few newspapers available on that site. There are quite a few free online newspapers on other sites and collections available on subscription sites. Below is a list of where the titles are stored and the link so that you can access them. 
There are over 2,000 newspapers that have been published in the Constitution State – certainly not all of them are searchable online. But there are several that are indeed available. So go for it – find your Connecticut ancestors and all the interesting articles that capture the stories of their lives. 
Please note that I have not always entered the dates that are included in the collections, as I suspect they will change as more items are digitized. Also I suspect that some of these links may change over time – so if there is a dead link – please use your favorite search engine to find their new location. 
(Updated May 2021; recently added links are in BOLD)
Free Sites:
Statewide Collections:
Chronicling America – Connecticut
Google News Archive
Newspapers of Connecticut 1821-1929
County and Library Collections:
Fairfield County
Weston Library
Weston Forum
The Weston Forum
Westport News
Hartford County
The Farmington Libraries
Farmington Daily Herald

Farmington Valley Herald

Farmington Valley Herald And Journal
Windsor Locks Historical Society Digital Archive
Litchfield County
Scoville Memorial Library
Lakeville Journal

Millerton News

Winsted Journal

Connecticut News

Connecticut Western News

Sharon News

The Lakeville Journal
Thomaston Express 

Express 

Thomaston Express And Terryville Eagle 

Connecticut Western 
Middlesex County
East Hampton Public Library 
New Haven County
Ansonia Historical Commission
Evening Sentinel

Ansonia Evening Sentinel

The Evening Sentinel
James Blackstone Memorial Library 
Branford Review 

Branford Scrapbooks – New Haven Evening Register

Branford Scrapbooks – New Haven Journal Courier 

Branford Review And East Haven News

Branford Opinion 

Branford Opinion And Guilford Echo

New Haven Journal and Courier

Branford Gleaner 

Suburban Spokesman 

Branford Semi-Weekly Record 

Branford News

The Branford Record 

East Haven News

Guilford Echo
Post 

North Haven Post

The North Haven Post

North Haven Citizen
New London County
Mirror-Journal
Mystic Journal
Mystic News
Stonington Mirror
Stonington Mirror and Mystic Journal
The Mystic Journal
The Mystic Standard
The Mystic Standard and Stonington Review
The Mystic Times
The New London Chronicle
The People
The Stonington Mirror
Southington Library Historic Newspapers (1859-2009) 
Southington Observer

Southington Phoenix

Southington News

Canal Line Times

Cheshire Courier

Southington Mirror

Southington Press

Southington Reporter

Connecticut journal
Southington Sentinel
The Southington Citizen
West Hartford Library Newspapers
West Hartford News
West Hartford Metropolitan News
Metropolitan News
Metropolitan Shopping News
West Hartford LIFE
Student Collections:
Amity Regional High School – Woodbridge
Berlin High School – Berlin
Central Connecticut State University – New Britain
Charter Oak State College – New Britain
Connecticut College – New London
Fairfield University – Fairfield
Glastonbury High School – Glastonbury
Mitchell College – New London
Northwest Catholic High School – West Hartford
Post University – Waterbury
Quinnipiac University – Hamden
Sacred Heart University – Fairfield
Sacred Heart University – Fairfield
Southern Connecticut State University – New Haven
Staples High School – Westport
State Normal School at New Haven
Trinity College – Hartford
University of Bridgeport – Bridgeport
University of Connecticut – Storrs
University of Hartford – Hartford
University of New Haven – West Haven
University of St. Joseph – West Hartford
Wesleyan University – Middletown
Western Connecticut State University – Danbury
Yale University – New Haven
Miscellaneous Collections and Indexes:
Manchester Evening Herald
Shelton Library System newspaper clipping scrapbooks
Watertown Historical Society Collection
The Post – 12-03-1881

The Post Boy – 1887

Watertown Journal – 1888-1891

The Sunday Republican – 09-15-1918

Watertown News – 1913-1929

Watertown Argus – 1-22-1937

Town Times – 1947-2000
Civilian Conservation Corps (CCC) Newspapers 1933-1942
Independent Voices – Alternative Newspapers
Bridgeport CT Connecticut Workman (1901)

Bridgeport CT Evening Farmer (1909-1917)

Bridgeport CT La Sentinella (1920-1930)
Bridgeport CT La Tribuna (1906-1908)
Canaan CT Western News (1884-1922)

Fairfield CT Record (1894-1899 )

Hartford CT Bulletin (1949)
Hartford CT Chronicle (1946-1948)

Hartford CT Connecticut Courant (1788-1820)

Hartford CT Connecticut Craftsman (1932)
Hartford CT Examiner (1881-1888)
Hartford CT Labor Standard (1894-1922)
Hartford CT Weekly Examiner (1890-91,1894,1901)
New Britan CT Herald (1920)
New Haven CT Connecticut Labor Press (1918-1920)
New Haven CT Indipendente (1906,1916-17,1922,1936)
New Haven CT Labor News (1922-1923)
New Haven CT Labor Press (1921-1925)
New Haven CT Morning and Courier (1880-1908)

New Haven CN Morning Journal and Courier (1880-1889)

New Haven CT Workmens Advocate ()
Newtown CT Bee (1907-1909)
Norwich CT American Mechanic (1849)
Norwich CT Bulletin (1910-1922)
Norwich CT Liberty Bell (1867)
Norwich CT Mechanics Operatives Laborers Advocate (1836-1837)
Norwitch CT Bulletin (1910-1922)
Ridgefield CT Citizen ()

Salisbury CT Western News (1883)

Southport CT Chronicle ( 1867-1903 )

Southport CT Fairfield Advertiser (1884-1890 )

Southport CT Pequot Record (1890)

Southport CT Times (1879-1881 )

Stafford CT News Letter (1865)
Stafford CT News Letter 1865 (1865)
Stafford Springs CT Press (1883-1922)
Stafford Springs CT Tolland County Press (1883)
Stamford CT American (1906)
Waterbury CT Evening Democrat (1877-1908)
Wilton CT. Bulletin (1937 -2003 
Newspaper Abstracts – Connecticut
For Obituary Indexes, transcriptions, and other death/obituary information from historic newspapers, please check out the Obituaries page.
Other Free Sites:
Bethany
Bridgeport
Hartford
New London
Norwich
Waterbury
Wilton
Windsor
Subscription or Pay Sites:
Ancestry.com:
There are currently 24 publications available at this site. See all the titles at Ancestry – Connecticut Newspapers
Genealogy Bank:
There are currently 291 publications available at this site. See all the titles at Genealogy Bank – Connecticut Newspapers
Newspaper Archive:
There are currently 109 publications available at this site. See all the titles at Newspaper Archive – Connecticut
Newspapers.com:
There are currently 19 publications available at this site. See all the titles at Newspapers.com – Connecticut. 
And Finally:
You also need to visit the Connecticut Digital Newspaper Project site from time to time, which can tell you what is occurring in the state with regard to online newspaper availability. 
Please note – even more may be available via a local or state library where a library card is required.  And of course there is always microfilm for those that have not been made available online as yet.
Good Luck and Happy Hunting!
For more links for different states, provinces, and countries – please see the Newspaper Links page on this website.
For other Free Connecticut Links, click on the category of interest:
Newspapers
Obituaries
BMD Records
Photos
Yearbooks
Directories
Divorce Records
Naturalizations
Church Records
School Records
Coroner Records
Voter Records
Probate and Wills
Immigration
Mortuary Records
Alumni Records
Cemetery Records