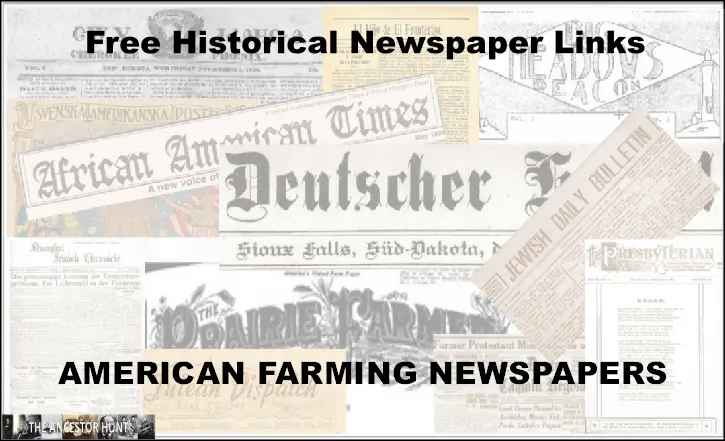 Over 35% of American families were involved in agriculture in the late 19th century. It is down to less than 5% today and certainly higher than 35% prior to 1899. Obviously, the stories of farmers and their families were recorded in local and county newspapers. As researchers, we also need to look to Farming newspapers to find our ancestors.
Farming and ranching had specialty newspapers throughout the country, whether they be advertising-oriented, journals, or just informing readers about the science of agriculture and new methods and tools to enhance the farmer's ability to grow more and better crops.
The list by state is below. Please note that I have excluded subscription databases from the list below.
(Updated August 2023; recently added links are in BOLD):
Alabama
Arkansas
Arizona
California
Colorado
Connecticut
Florida
Georgia
Idaho
Illinois
Indiana
Iowa
Kansas
Kentucky​
Louisiana
Maine
Maryland
Michigan​
Minnesota
Mississippi
Missouri
Montana
Nebraska
New Hampshire
New Jersey
New Mexico
New York
North Carolina
North Dakota
​Ohio
Oklahoma
Oregon
Pennsylvania
Rhode island
South Carolina
South Dakota
Tennessee
Texas
Utah
Vermont
Virginia
Washington
West Virginia
Wisconsin
Wyoming ​ 
Good luck finding articles about your farming ancestors!