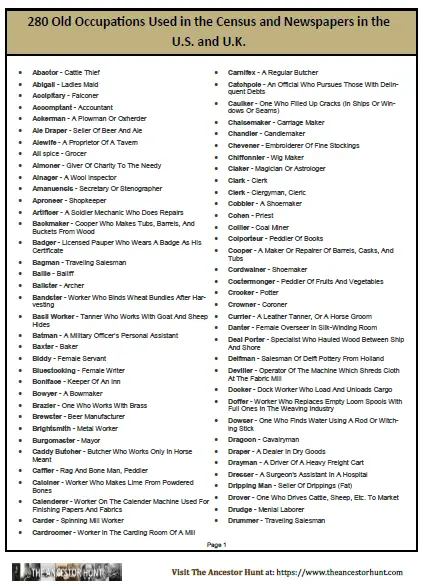 When searching old newspapers and census records, we are often faced with unusual names of occupations, and we have no clue as to their meaning because the terms are not in use today.
I have collected a list of about 280 old occupations and their meanings from a variety of sources. Dan Burrows and Jan Cortez are two people who are named as sources in various websites listing old occupations and their meanings. Thanks to them. And although I didn't reference her writings, Jane Hewitt has written an e-Book full of old occupations and meanings, entitled "Dictionary of Old Occupations".
In the attached Quick Reference Guide is a list of old occupations (and meanings) that were used in the U.S. and the U.K.
To obtain the four-page Quicksheet pdf for easy reference, you can download it by clicking on the Download button:
For all the previously published Quick Reference Guides, click on QuickSheets