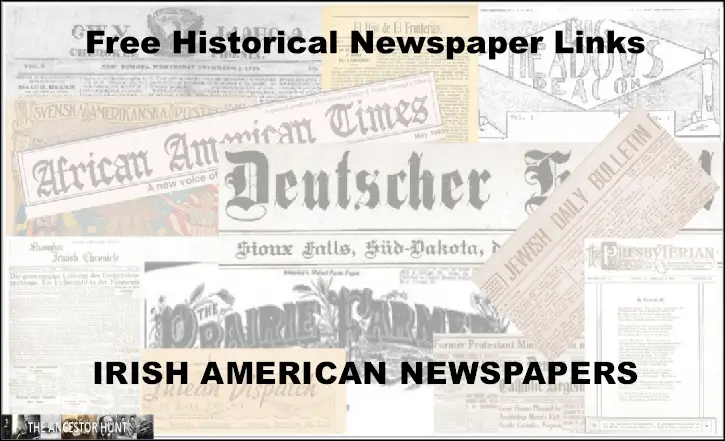 For those of you who have a wee bit of Irish (or more) in your family tree, there are several Irish-American newspapers that have been published over the last two hundred or so years that may help you find some information and stories about your Irish ancestors.
Take a look at these sites and search away! Included are some magazines and journals as well as newspapers. It isn't a huge list but might be worth your time.
Listed are only those that are available online. As always, there are tons more available via microfilm and in the original form via libraries and archives.
Please note that some are free and some require a subscription or a login from a university (or local) library. Some are indexed, and some are not.
(Updated August 2023; recently added links are in BOLD)
Irish American Historical Newspapers
Free Collections:
Colorado
Illinois
Kentucky
Massachusetts
Minnesota
New York
Pennsylvania
Library Access Only:
The Shamrock

Hibernian Chronicle 

The Western Star and Harp of Erin 

United States Catholic Miscellany 

The Exile 

Gaelic American

Irish American Weekly

Irish Citizen

Irish Nation
Subscription Sites:
Genealogy Bank
Villanova University has a Library Guide that is quite useful for Irish-American and Irish newspapers 
Other universities, such as the University of Wisconsin, Penn State University, and Penn also have newspaper collections that can be accessed if one has community access through the university. You might check with your nearest major university library to see what they have in their collection or have easy access to. And your local library might have a Readex/NewsBank subscription as well.
And finally, if you are interested in historic newspapers from Ireland (not America or Canada) you can also access The Irish Newspaper Archives, which is a subscription site. And Richard Heaton's Index to Digitised British and Irish Newspapers Online is a good directory of links to historic newspapers published in Ireland.
Good Luck and Happy Hunting!