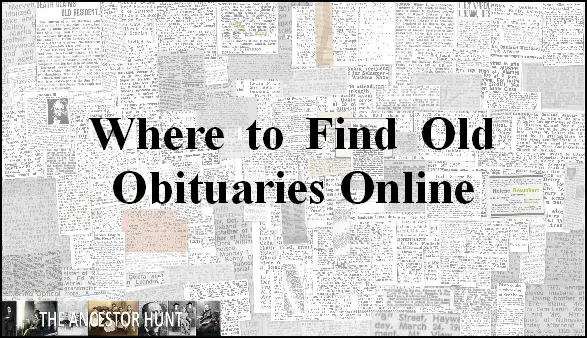 One of the main goals for genealogists in searching historic newspapers is to find obituaries. Obituaries are a gold mine of information. They provide death dates and locations, funeral and cemetery information and more importantly – information about the relatives of the deceased's family and extended family. This family name information is often not found anywhere else.
For a good summary of what kind of pertinent information you can find in obituaries, click on 32 Reasons Why Searching for Obituaries is Like Finding Gold
In the old days, finding obituaries required flipping though old newspapers in libraries or newspaper rooms. It was a tedious process, but all we had. Today, this is called "browsing".
Over the past few decades, thanks to volunteers, librarians, and archivists, these old newspapers began to be microfilmed, and more recently, digitally scanned.  And the microfilms have been scanned as well.  So now, flipping through these digital representations of the old newspapers is much more easily accomplished.
With the addition of Optical Character Recognition (OCR), dots on a newspaper page can now be interpreted as letters or symbols, forming words, and complete articles. And with the advent of crowdsourcing and text correction, the OCR results can now be improved by users of online newspaper collections.
Where are Obituaries?
In short, obituaries can be found in four places:
You can still find original newspapers in libraries and archives

Microform representation of newspapers can be found in libraries and archives.

Digitized online newspaper collections that are provided by libraries, archives, and many commercial and other suppliers.

Obituary and Obituary Index collections that are provided by libraries, genealogical and historical societies, and general representations in free online sites such as FamilySearch and Rootsweb. Many of the indexes might represent entries in scrapbooks and file folders held at libraries and societies.
Where are Online Obituaries Found?
The creators of online obituary collections include:
Newspaper scanning entities

Online Newspapers

Public and Academic Libraries

Nursing Homes

Churches

Coroners

Mortuaries and Funeral Homes

Genealogical and Historical Societies

Museums

Fraternal organizations

School & Alumni Associations
Obituary Indexes and Obtaining the Obituary
Obituary Indexes are created by people patient enough to go through old obituaries regardless of their source and capture (at a minimum) the name of the deceased and the publication name and date of the newspaper where the obituary originally resided. With that minimal information you can browse or search the newspaper issue for the representation of the original obituary. Often, additional information is included in the index, such as death date, death location, birth date, etc.
Nomenclature can be an issue when dealing with obituaries and obituary indexes.  For example, is a Death Notice the same as an Obituary?  Is a Death Index the same as an Obituary Index? 
I would encourage you to read What is the Difference Between an Obituary, a Death Notice, an Obituary Index and a Death Index?
So now that you find an obituary from an index you want to get your hands on, what do you do? 
If you have the name of the newspaper and the publication date, you can browse or search that newspaper for the obit. As mentioned earlier, you can browse originals, scroll through microfilm, or browse through a digital representation of the newspaper, available at a library computer or online.
If you searched or browsed through an obituary index at a library or online, often that institution will have clippings in a book or file folders and for a small fee will make a copy (digital or otherwise) and email or mail it to you.
Online Obituary Sites for Fairly Recent Obituaries
In the last 20 years or so, many online obituary aggregator sites have cropped up, such as Legacy, and original online obituary "publishers", such as Tributes. These types of sites are the future for obituary "publishing". Because of the cost of contributing newspaper obituaries and the diminishing paper subscribers, most newspapers now publish obits in their online sites.
I would encourage you to read What is the Future of Obituaries? for more information.
Obituary Collector Sites
There are also "Obituary Collectors" who have sites that you can search. Many of them charge a small fee to download a transcription, or the sites are full of ads, which makes navigating the sites somewhat difficult.
The Ancestor Hunt and Obituaries
Besides general genealogical topics, this website began in earnest over 5 years ago researching and listing links to free online historical newspaper collections. Today there are over 39,000 titles from the U.S. and Canada available. Click on the Newspaper Links Page for the lists of links.
About two years ago, I began collecting links to historical obituaries freely available online. Also, links to obituary indexes have been collected. Currently there are almost 4,000 links to free obituary and obituary index sites. Click on the Obituaries Page for the lists of links.
Some of my greatest breakthroughs in my personal genealogy research have been because of obituaries.  Hopefully you will have the same good fortune.