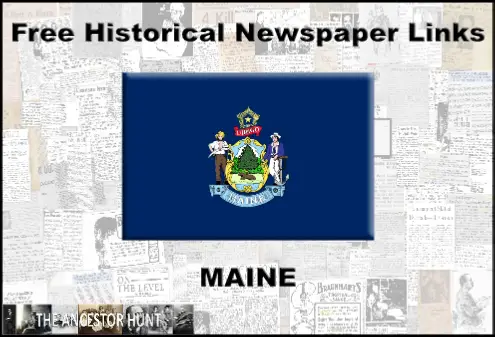 Maine is one of the states that does have a single central online state repository for searching historical newspapers. Several states use the Library of Congress Chronicling America site as their main central online site for searching old newspapers and Maine recently started to make newspapers available on that site. There are numerous free online newspapers available on other sites and there are collections available on subscription sites. Below is a list of where the titles are stored and the link so that you can access them.
There are about 1,500 newspapers that have been published in the Pine Tree State – certainly not all of them are searchable online. So go for it – find your Maine ancestors and all the interesting articles that capture the stories of their lives.
Please note that I have not always entered the dates that are included in the collections, as I suspect they will change as more items are digitized. Also, I suspect that some of these links may change over time – so if there is a dead link – please use your favorite search engine to find their new location. 
(Updated May 2021; recently added links are in BOLD)
Free Sites:
Statewide Collections:
Chronicling America – Maine Newspapers
Google News Archive
Digital Maine – Newspapers (some of these are duplicated below – but not all)
Androscoggin County
Aroostook County
Cumberland County
Franklin County
Hancock County
Kennebec County
Knox County
Lincoln County
Oxford County
Penobscot County
Piscataquis County
Somerset County
Waldo County
Washington County
York County
County and Library Collections:
Aroostook County
Caribou Public Library
Aroostock Valley Sunrise 

Fort Fairfield Aurora

Presque Isle Sunrise

Beacon 

Loyal Sunrise

Northern Leader 

Leader And Farm Journal 

Fort Fairfield Review 

Fort Fairfield Journal 
Star Herald 

Aroostook Pioneer 

Presque Isle Star-Herald 

Presque Isle Star Herald 

Aroostook Pioneer 

Aroostook Herald 

North Star 

Presque Isle Sunrise 

The Aroostook Herald 

The North Star 

The Star-Herald 

The Aroostook Democrat 

The Beacon 

The Loyal Sunrise 

The Sunrise 

The Independent 

Aroostook Valley Sunrise 
Walter TA Hansen Memorial Library
Mars Hill News

Our Community Letter

Mars Hill Enterprise
Cumberland County
Bridgton Public Library
The Bridgton News

Bridgton News
Brunswick Telegraph
The Bath-Brunswick Times-Record
The Brunswick Record
The Brunswick Telegraph
Scarborough Leader

Southern Forecaster

Current

Sun Times

Forecaster

Scarborough News Review

Cumberland County

South Portland Cape Elizabeth Sentry

Scarborough Leader

The Southern Forecaster
Kennebec County
Gardiner Public Library
Christian Intelligencer and Eastern Chronicle

Cold Water Fountain

Cold Water Fountain and Gardiner News Letter

Fountain and Journal

Gardiner Home Journal

Gardiner Journal

Kennebec Reporter

Northern Home Journal

Reporter Journal

Daily Reporter Journal

Gardiner Independent

Eastern Chronicle
The Gardiner Times
Knox County
Camden Public Library
Lincoln County
Lincoln County News
Boothbay Register
Damariscotta Holiday Review
Democrat and Free Press
Herald and Record
Independent Reporter
Lincoln County News
Lincoln Democrat
Sheepscot Echo
Village Herald
Waldoboro Press
Oxford County
Bethel Historical Society
Penobscot County
Bangor Public Library

Penobscot Times

Old Town-Orono Times

The Old Town Enterprise 

Old Town Enterprise

Sachem 
Piscataquis County
Thompson Free Library
Piscataquis Observer

Piscataquis Herald
Democratic Republican
Somerset County
Pittsfield Public Library
Pittsfield Advertiser

Valley Times

Valley Times and the Pittsfield Advertiser
Waldo County
Belfast Free Library
Islesboro Island News

Islesboro Observer

Islesboro Up Date

Morning Sun
York County
McArthur Public Library
Biddeford Advance

Biddeford Daily Journal

Biddeford Daily Standard

Biddeford Journal

Biddeford Observer

Biddeford Weekly Journal

Biddeford Weekly Times

Biddeford-Saco Courier

Concord Gazette

Daily Breeze

Daily Evening Star

Daily Evening Times

Daily Morning Herald

Daily Standard

Daily Times

Evening Post

Expose

Journal Tribune

Maine Democrat

Maine Palladium

Maine Sentinel

New England Galaxy

Nightly Comet

Old Flag

Peoples Defender

Saco Tribune

Sentinel

Tri Weekly Herald

Union

Union and Eastern Journal

Union And Journal

Watchword

Watsons Illuminator

Weekly Record

Weekly Standard

York County Herald
Sanford Tribune And Advocate

Sanford Tribune 

Springvale Advocate

Sanford Weekly Tribune

Journal Tribune
Bar Harbor Times

Bar Harbor Record

Bar Harbor Mount Desert Herald
Rockland Public Library – Archived Rockland Newspapers
The Courier Gazette, 1882-1920

The Lime Rock Gazette, 1846-1850

The Rockland Gazette, 1851-1882
Student Collections:
Bates College – Lewiston
Bowdoin College – Brunswick
College of the Atlantic – Bar Harbor
Colby College – Waterville
Gould Academy – Bethel
Husson Universoty – Bangor
Maine College of Art – Portland
Maine Maritime Academy – Castine
Saint Joseph's College – Standish
Southern Maine Community College – South Portland
Thomas College – Waterville
Unity College – Unity
University of Maine – Farmington
University of Maine – Fort Kent
University of Maine – Machia
University of Maine – Orono
University of Maine – Presque isle
University of New England – Biddeford
University of Southern Maine – Portland
Miscellaneous Collections and Indexes:
Maine News Index Online (Index only)
Civilian Conservation Corps (CCC) Newspapers 1933-1942
Independent Voices – Alternative Newspapers
Belfast ME Republican Journal
Biddeford ME Union and Journal

Damarisotta and Newcastle ME Village Herald 1877

South Paris ME Oxford Democrat
For Obituary Indexes, transcriptions, and other death/obituary information from historic newspapers, please check out the Obituaries page. 
Other Free Sites:
Bethel
Lewiston
Milo
Portland
Rumford
South Freeport
Subscription or Pay Sites:
Ancestry.com:
There are currently 37 publications available at this site. See all the titles at Ancestry – Maine Newspapers
Genealogy Bank:
There are currently 127 publications available at this site. See all the titles at Genealogy Bank – Maine Newspapers
Newspaper Archive:
There are currently 42 publications available at this site. See all the titles at Newspaper Archive – Maine
Newspapers.com:
There are currently 9 publications available at this site. See all the titles at Newspapers.com – Maine 
And Finally:
You also need to check out the Maine State Library site, which can tell you what is happening in the state with regard to newspaper projects.
Please note – even more may be available via a local library where a library card is required. And of course there is always microfilm for those that have not been made available online as yet.
Good Luck and Happy Hunting!
For more links for different states, provinces, and countries – please see the Newspaper Links page on this website.
For other Free Maine Links, click on the category of interest:
Newspapers
Obituaries
BMD Records
Photos
Yearbooks
Directories
Divorce Records
Naturalizations
Church Records
School Records
Coroner Records
Voter Records
Probate and Wills
Immigration
Mortuary Records
Alumni Records
Cemetery Records