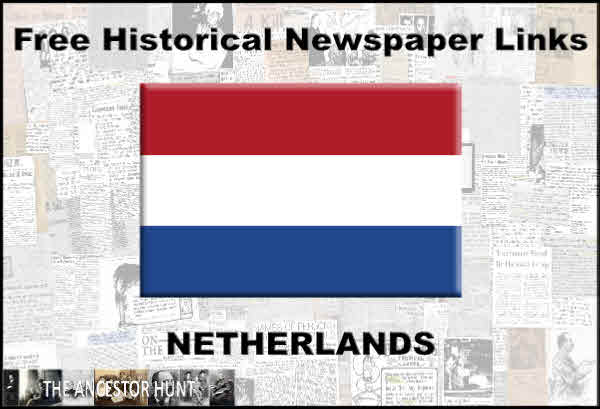 In 2014, this website began to curate links to free online newspapers in the United States. The initial publication listed about 10,000 titles. A few years later, digitized and free Canadian newspaper collection links were curated and published. Today, between the two countries there are over 47,500 historical newspaper titles that are listed. The common denominator is that they are free to search and/or browse online.
This brings us to Europe. There are 44 countries in Europe. I suspect that we will not be able to find free titles in all the countries, but that is our goal.
Each country's page will list nationwide titles, titles from other collections, and individual titles that are free to search and browse. Many countries have titles from other countries in their national libraries. They will be listed on the page of the collection that holds that title.
Netherlands
Nationwide Collections
Amsterdamse courant (1670-1699)
Courante uyt Italien, Duytslandt, &c. (1619-1669)
Europische courant (1642-1646)
Extraordinarisse Post-tijdinghe (was: Haegse Post-Tydingen) (1641)
Haegse post-tydinge (1663-1677)
Haerlemse courante (1659-1662)
Oprechte Haerlemsche courant (1659-1700)
Opregte Leydse courant (1698)
Ordinaris dingsdaeghse courante (1640-1670)
Ordinarisse middel-weeckse courante (1639-1669)
Tijdinghe uyt verscheyde quartieren (1619-1671)
Utrechtse courant (1675-1698)
VVeeckelycke courante van Europa (1656-1658)
Europeana Netherlands Newspaper Collection
Note: The Europeana collection has a number of Netherland newspapers from the National Library of Netherlands. Use of Europeana will provide you with an alternative way to search Netherland newspapers.
Nationale Bibliotheek Delpher Newspapers
Note: A searchable archive that catalogs newspapers that can be found in other collections on this page as well as some additional newspapers
Other Collections
Dutch Underground Press During World War II
Gazettes europeennes du 18e siecle
Gemeentearchief Roermond digitaal krantenarchief
Gemeentearchief Roermond Opent Digitaal Krantenarchief
Krantenarchief van Mediahuis Noord
Dagblad van het Noorden
Friesch Dagblad
Leeuwarder Courant
Nieuwsblad van het Noorden
Ambitie
Asser Courant
Balkster Courant
Bijlage
Bolswards Nieuwsblad
Breed-uit
Coevorder Courant
Da's Mooi
De Feanster
De Koerier
De M-O-H Post
De Noordoostpolder
De Sawn Stjerren Post
De Woudklank
Dedemvaartse Courant
Drachtster Courant
Eemsbode
Emmer Courant
Flevopost Dronten
Flevopost Lelystad
Franeker Courant
Frisia
Groninger Gezinsbode
HS krant
Harener Weekblad
Heerenveense Courant
Heerenveense Courant
Het Gezinsblad
Het Klaverblad
Het Pekelder Streekblad
Het Streekblad
Hoh
Hoogeveensche Courant
Huis aan Huis Leeuwarden
Jouster Courant
Kanaalstreek
Kollumer Courant
Krant van Coevorden
Krant van Flevoland
Krant van Hoogeveen
Krant van Joure
Krant van Midden-Drenthe
Krant voor Meppel
Meppeler Courant
Mid Frieslander
Midweek
Nieuwe Dockumer Courant
Nieuwe Ooststellingwerver
Nieuwsblad van Noordoos Friesl…
Nieuwsblad voor Ferwerderadeel
Noorderkrant
Noorderland
Roder Journaal
Sawn Stjerren Nijs
Sneeker Nieuwsblad
Staphorster
Steenwijker Courant
Stellingwerf
Ter Apeler Courant
Veendammer
Westerkwartier
Westervelder
Wijd en Zijd
Wolder Courant
Zuid-Friesland
Zuidoosthoeker
Regionaal Archief Rivierenland
Dag-Bulletin, editie Culemborg,  1945
De Schijnwerper, 1956–1959
Nieuwe Bommelsche Courant,  1891–1896
Nieuws- en Advertentieblad voor Geldermalsen en Omstreken,  1945–1946
Ons Weekblad. R.K. Orgaan voor Tiel en Omstreken,  1910–1919
Tielsche Courant,  1920–1928
Miscellaneous Titles
Good Luck and Happy Hunting!