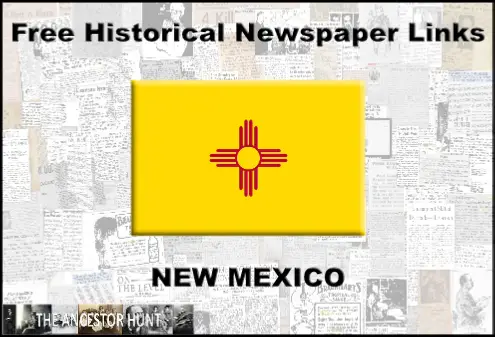 New Mexico is one of the states with a single central online state repository for searching historical newspapers, and they use the Library of Congress Chronicling America site as another site for searching old newspapers. There are free online newspapers on other sites and large collections available on subscription sites. Below is a list of where the titles are stored and the link so that you can access them.
There are almost 1,300 newspapers that have been published in the Land of Enchantment – certainly not all of them are searchable online. But there are several that are indeed available. So go for it – find your New Mexico ancestors and all the interesting articles that capture the stories of their lives. 
Please note that I have not always entered the dates that are included in the collections, as I suspect they will change as more items are digitized. Also I suspect that some of these links may change over time – so if there is a dead link – please use your favorite search engine to find their new location. 
(Updated November 2022; recently added links are in BOLD)
Free Sites:
Statewide Collections:
Chronicling America – New Mexico Newspapers
Google News Archive
New Mexico Historical Newspapers
County and Library Collections:
Lincoln County Newspaper Archives
Student Collections:
Central New Mexico College – Albuquerque
Eastern New Mexico University – Portales
Luna Community College – Las Vegas
Mesalands Community College
New Mexico Highlands University – Las Vegas
New Mexico Military Institute – Roswell
New Mexico State University – Las Cruces
New Mexico Tech – Socorro
San Juan College – Farmington
St. John's College – Santa Fe
University of New Mexico – Albuquerque
University of the Southwest – Hobbs
Western New Mexico University – Silver City
Miscellaneous Collections and Indexes:
Independent Voices – Alternative Newspapers
A: A Journal of Contemporary Literature 
Albuquerque Area Education Profile
Halne'ii of the San Juan Mission
Indian Forerunner
Jicarilla Chieftain

Myths and Techno-Fantasies

Stooge
SUM
​
Civilian Conservation Corps (CCC) Newspapers 1933-1942
Capitan Condado de Lincoln Newspaper Index
Surname Index of the Albuquerque Daily Citizen
White Sands Missile Range Newspapers
Wind and Sand

Missile Ranger
Newspaper Abstracts – New Mexico
For Obituary Indexes, transcriptions, and other death/obituary information from historic newspapers, please check out the Obituaries page. ​
Other Free Sites:
Albuquerque
Deming
Subscription or Pay Sites:
Ancestry.com:
There are currently 29 publications available on this site. See all the titles at Ancestry – New Mexico Newspapers
Genealogy Bank:
There are currently 240 publications available on this site. See all the titles at Genealogy Bank – New Mexico Newspapers
Newspaper Archive:
There are currently over 194 publications available on this site. See all the titles at Newspaper Archive – New Mexico
Newspapers.com:
There are currently 102 publications available on this site. See all the titles at Newspapers.com – New Mexico 
And Finally:
You also need to visit the New Mexico Digital Newspapers site, which can tell you what is occurring in the state with regard to newspaper projects. They also have a nice searchable database for microfilm-based collections throughout the state.
Please note – even more may be available via a local library where a library card is required. And of course, there is always microfilm for those that have not been made available online as yet.
For more links for different states, provinces, and countries – please see the Newspaper Links page on this website.