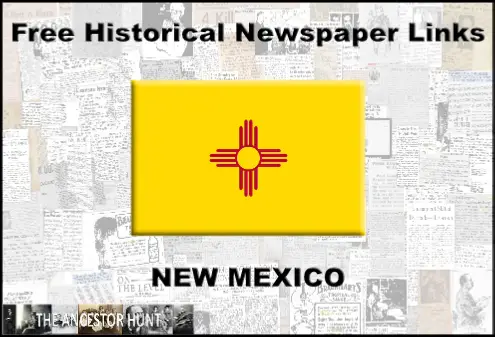 New Mexico is one of the states that does have a single central online state repository for searching historical newspapers, and they use the Library of Congress Chronicling America site as another site for searching old newspapers. There are free online newspapers on other sites and large collections available on subscription sites. Below is a list of where the titles are stored and the link so that you can access them.
There are almost 1,300 newspapers that have been published in the Land of Enchantment – certainly not all of them are searchable online. But there are several that are indeed available. So go for it – find your New Mexico ancestors and all the interesting articles that capture the stories of their lives. 
Please note that I have not always entered the dates that are included in the collections, as I suspect they will change as more items are digitized. Also I suspect that some of these links may change over time – so if there is a dead link – please use your favorite search engine to find their new location. 
(Updated June 2021; recently added links are in BOLD)