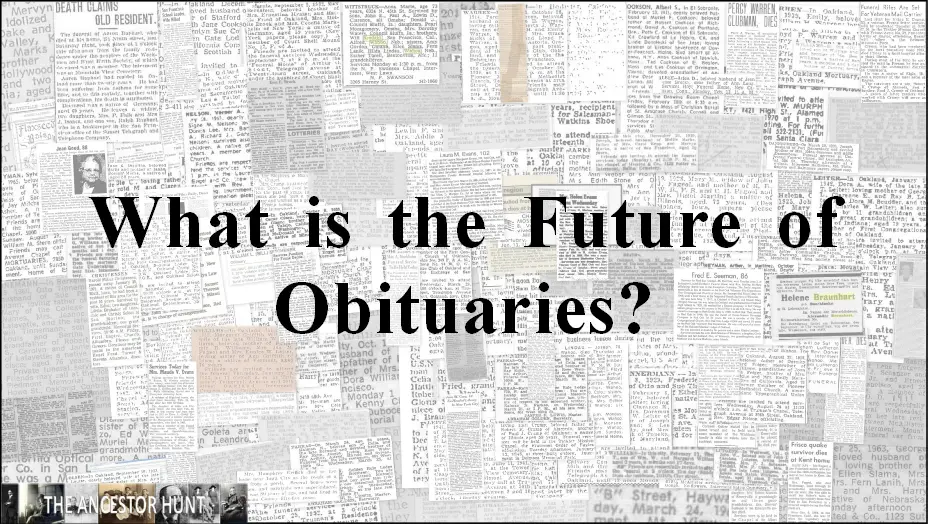 Just the other day, I was having a short conversation with François Desjardins, of the Drouin Institute, the company behind Généalogie Québec, which offers over 45 million online files and images for the Quebec and French-Canadian research community.  My interest was particularly the free online obituaries, which now number over 2.3 million names across Canada.
​It got me thinking about the future of obituaries – in my view, one of the richest pieces of information that a genealogist can make use of in their research. For my personal genealogy research, several breakthroughs came about SOLELY because of newspaper obituaries that I'd found.
Obviously, the methods of preparing and publishing obituaries are changing quickly. A simplistic view might be – "What's the Big Deal?" Instead of paper, they are now online.
I'm not so sure there is a simple answer. Here are my thoughts:
Publishing Newspaper Obituaries and Online Newspaper Obituaries
Physical newspaper obituaries are costly. So besides the burial and funeral expenses, a newspaper obituary just adds to the expense.
From National Cremation:
"An average obituary can easily be $200.00-500.00. Costs vary by publication. Newspapers charge by the line and can average $450 for a complete obituary. The average obituary cost begins at $200.00 and increases due to the amount of content, including a photograph and the length of the obituary."
From Legacy.com:
A recent study performed shows that most people seeking to publish a newspaper obituary have no clue how much they cost. See the results of their study – Obituaries: The Gap Between Newspaper Pricing Trends & Consumer Expectations
From BeyondTheDash,com:
In their article, they discuss published newspaper obituaries and published online obituaries. The complete article is at: How Much Does an Obituary Cost?​
The good news about publishing an obituary via an online newspaper is that despite the cost, it can be inexpensive enough that one can author a longer obituary than you might if it was intended for an obituary that would actually be published in the physical newspaper.
So, as genealogy researchers, where does that leave us in the future in order to find Obituaries?
There will still be published newspaper obituaries, whether in a physical newspaper and/or in the online version of their newspaper.
​
Where Can I Find Published Newspaper Obituaries?
The old-fashioned way – the primary methods we use now, such as searching old newspapers, specialty obituary web pages, or obituary indexes, often prepared by libraries and genealogical societies. For free resources, check out the Newspaper Links Page, and the Obituaries Page on this website.
Where Can I Find Online Obituaries?
This is where it gets interesting. They are all over the place. Here are the options:
Individual online newspaper websites

Funeral Home websites

Free aggregators like Legacy.com, who on their website state that they partner with 1,500 newspaper websites, and 3,500 funeral homes. There are quite a few aggregators. 

Individual "remembrance" and other online obituary sites where one can post a recently deceased relative. I have personally made use of one of these. These are typically not aggregated.

Schlock sites

gather up obituaries from a bunch of sources and publish them, but they really are a bait and switch because they are simply trying to get you to click on their ads. And their web pages are incredibly ugly and busy and full of ads.
Aggregators charge a few bucks for a one-time

or subscription access to their posted obituaries.
So, in the future, where do we find all these online obituaries?  The answer seems to be incredibly easy, and the future seems to be bright.
To find an online obituary or memorial, use Google (or your favorite search engine).  It works!
I have personally used this technique successfully for recently departed relatives and friends. There is a caveat of course – what happens 30 years from now?  These online companies need to stay in business. There is always the Wayback Machine I guess.
​See?  Not so easy.