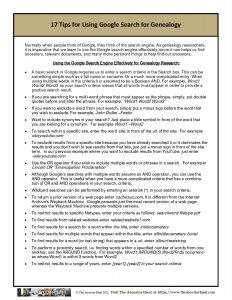 Google Search has become so ubiquitous that "Google it" is a part of our everyday language. Searching using Google has a variety of options that many researchers are not familiar with. Here are 17 different ways to use Google to search; some are especially helpful when doing genealogy research.
Download the Quicksheet PDF
To obtain the one-page Quicksheet pdf for easy reference of what information to look for, you can download it by clicking on the Download Button Below:
For all the previously published Quick Reference Guides, click on QuickSheets. 
Good Luck and Happy Hunting!