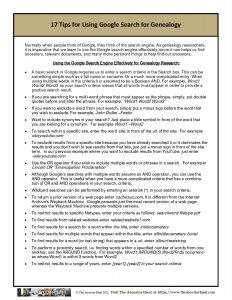 Google Search has become so ubiquitous that "Google it" is a part of our everyday language. Searching using Google has a variety of options that many reseatrchers are not familiar with. Here are 17 different ways to use Google to search; some are especially helpful when doing genealogy research.
To obtain the one-page Quicksheet pdf for easy reference of what information to look for, you can download it by clicking on 17 Tips for Using Google Search for Genealogy
For all the previously published Quick Reference Guides, click on QuickSheets.