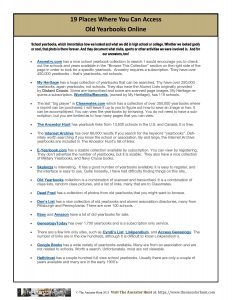 Primarily a North American phenomenon historically, the first yearbook published was the Yale Banner in the early 1800s.
I encourage you to research old yearbooks, and not just for yourself and close relatives. What about your ancestors? They went to school too (at least some of them in the last 200 years). And they belonged to clubs and associations outside of school.
Download the Quicksheet PDF
I have put together a Quick Reference Guide that has 19 different websites where you can find digitized yearbooks, as well as class lists and alumni and reunion materials. Accessing these sites will provide you with much more genealogical material, and some interesting ancestor stories!
To obtain the one-page Quicksheet pdf for easy reference, you can download it by clicking on the Download button:
For all the previously published Quick Reference Guides, click on QuickSheets
Good Luck and Happy Hunting!