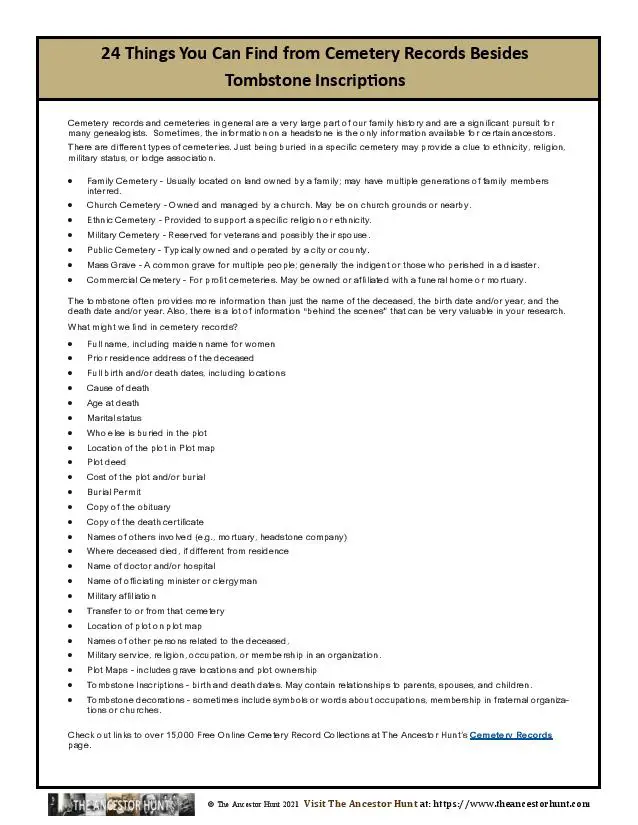 Cemetery records and cemeteries in general are a very large part of our family history and are a significant pursuit for many genealogists.  Sometimes, the information on a headstone is the only information available for certain ancestors.
There are different types of cemeteries. Just being buried in a specific cemetery may provide a clue to ethnicity, religion, military status, or lodge association.
Family Cemetery – Usually located on land owned by a family; may have multiple generations of family members interred.
Church Cemetery – Owned and managed by a church. May be on church grounds or nearby.
Ethnic Cemetery – Provided to support a specific religion or ethnicity.
Military Cemetery – Reserved for veterans and possibly their spouse.
Public Cemetery – Typically owned and operated by a city or county.
Mass Grave – A common grave for multiple people; generally the indigent or those who perished in a disaster.
Commercial Cemetery – For-profit cemeteries. May be owned or affiliated with a funeral home or mortuary.
The tombstone often provides more information than just the name of the deceased, the birth date and/or year, and the death date and/or year. Also, there is a lot of information "behind the scenes" that can be very valuable in your research.
Download the Quickheet PDF
Below is a link to a QuickSheet that contains a list of 24 things that you can find from these records. To obtain the one-page Quicksheet pdf for easy reference of what information to look for, you can view or download it by clicking on the button below.
For all the previously published Quick Reference Guides, click on QuickSheets.