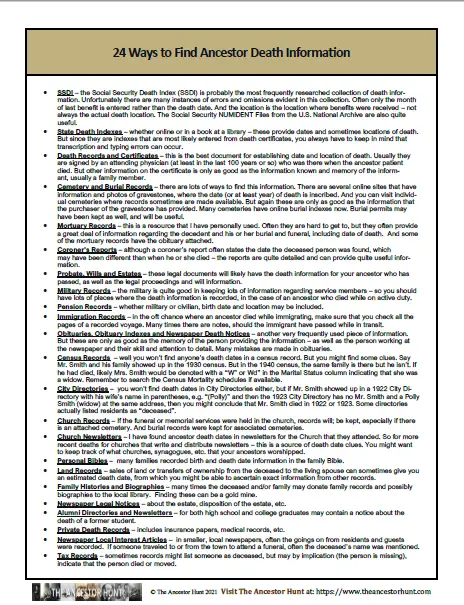 When researching our ancestors, one of the most important events is their death (otherwise they wouldn't be ancestors, they'd be relatives? – but I digress). Determining the date and location of death is important as we document the major events in their lives.
Most folks limit their search to the obvious repositories, whether online or not, focusing primarily on death certificates and obituaries. But there are many ways to determine specifics about someone's death, as well as finding clues that help you find their exact death date.
Most of these listed source types should not stand alone as evidence of the actual date and location of an ancestor's death – so you might want to check many of these sources to provide corroborating evidence.
Download the Quicksheet PDF
I have put together a Quick Reference Guide that has 24 different ways you can find death records and other death references and information.
To obtain the one-page Quicksheet pdf for easy reference, you can download it by clicking on the Download button:
For all the previously published Quick Reference Guides, click on QuickSheets
Good Luck and Happy Hunting!