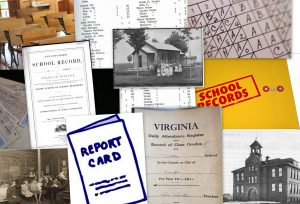 Do you research school records? I'm not talking about yearbooks. Those can be found on the Yearbooks Page. I'm talking about actual school records, such as enrollment, attendance, and grade reports for example. These are interesting source documents because they might record the student's age, birth date and location, and possibly their parents' names. All great ways to find this information if you haven't found them in other documents about your target ancestor. Besides, finding out your grandmother's grades would be interesting!
Check out the School Record Collection links at The Ancestor Hunt, which are presented by state by clicking on School Records
Download the Quicksheet PDF
To obtain the one-page Quicksheet pdf for easy reference of what information to look for, you can download it by clicking on the Download button below:
For all the previously published Quick Reference Guides, click on QuickSheets. 
Good Luck and Happy Hunting!