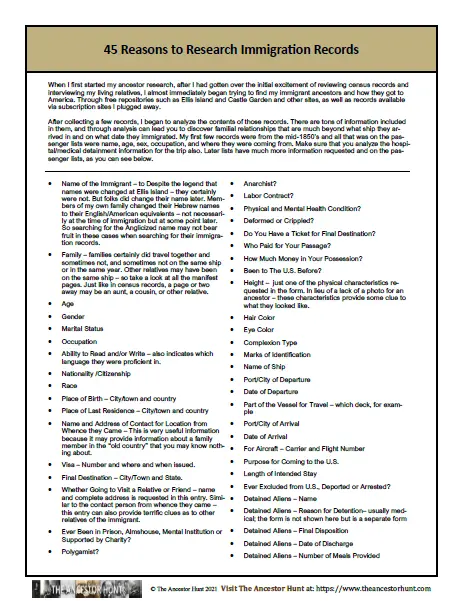 When I first started my ancestor research, after I had gotten over the initial excitement of reviewing census records and interviewing my living relatives, I almost immediately began trying to find my immigrant ancestors and how they got to America. Through free repositories such as Ellis Island and Castle Garden and other sites, as well as records available via subscription sites I plugged away.
After collecting a few records, I began to analyze the contents of those records. There are tons of information included in them, and thorough analysis can lead you to discover familial relationships that are much beyond what ship they arrived in and on what date they immigrated. My first few records were from the mid-1850s and all that was on the passenger lists were name, age, sex, occupation, and where they were coming from. Make sure that you analyze the hospital/medical detainment information for the trip also. Later lists have much more information requested and included on the passenger lists.
To obtain the one-page Quicksheet pdf for easy reference of what information to look for, you can download it by clicking on the Download button below:
For all the previously published Quick Reference Guides, click on QuickSheets. 
Good Luck and Happy Hunting!