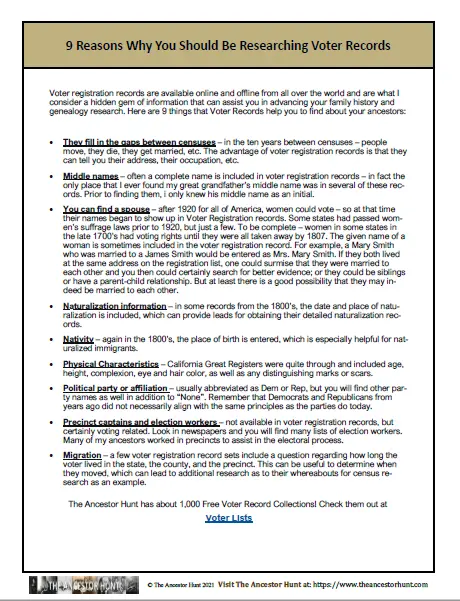 Voter registration records are available online and offline from all over the world and are what I consider a hidden gem of information that can assist you in advancing your family history and genealogy research.
Before I get to the list of 9 reasons why voter records are such a wonderful tool for researching (and finding) ancestors, let me tell you a little story why they have been incredibly helpful for me:
I already knew who my great great grandfather was and his name was Louis Marks, but I did not know his parents names or names of any siblings. BUT a Great Register – a fancy name for a voter registration list, was found for the city of San Francisco. And not only was he on it, but also another person with the same surname, Emil Marks. Now there were many folks with that surname in San Francisco and I am not naive enough to think that they all were related. But in that Great Register it included their naturalization date – and Louis and Emil were naturalized on the same day. That made my ears perk up so I researched further elsewhere and guess what – they had the same witnesses named in their naturalization index cards. Still doesn't prove a blood relationship, so off I went to look at city directories for that time and I found an entry for a business named "Louis Marks and Bro," under Emil's entry where it stated that he was an owner as well. Sufficient to assume now that they were indeed brothers, right?
Sorry, we aren't done but I will keep it short. Then I found a newspaper article where a Fanny Lust was handling the estate of Emil Marks, who was run over by a train in Oakland. Suspecting a possible blood relationship, I researched further but had no luck finding evidence of a sibling relationship between Fanny and the boys. In the meantime I was contacted by a new "cousin", who was a descendant of Fanny and he alerted me to the fact that her maiden name was "Marks." Getting warmer! Then I found the obituary for Emil in the newspaper and lo and behold it listed his siblings as Louis, Mrs. S. Lust and Mrs I. Schudmack. Fanny had been married to a Simon Lust (who by the way had a business partner in the 1860's – one Emil Marks). So now we had evidence of a sibling relationship between Fanny, Louis and Emil PLUS a bonus – another sister, who turned out to be named Lottie and was married to Isaac Schudmack!
ALL THIS was started and discovered over several years because of a Voter Record.  End of story.
So with that story, and the discovery of new aunts and uncles as well as a living "cousin", if you aren't inspired enough to search voter records and the like, here are 9 other reasons why you should research them:
They fill in the gaps between censuses – in the ten years between censuses – people move, they die, they get married, etc. The advantage of voter registration records is that they can tell you their address, their occupation, etc.
Middle names – often a complete name is included in voter registration records – in fact, the only place that I ever found my great grandfather's middle name was in several of these records. Prior to finding them, i only knew his middle name as an initial.
You can find a spouse – after 1920 for all of America, women could vote – so at that time their names began to show up in Voter Registration records. Some states had passed women's suffrage laws prior to 1920, but just a few. To be complete – women in some states in the late 1700's had voting rights until they were all taken away by 1807. The given name of a woman is sometimes included in the voter registration record. For example, a Mary Smith who was married to a James Smith would be entered as Mrs. Mary Smith. If they both lived at the same address on the registration list, one could surmise that they were married to each other and you then could certainly search for better evidence, or they could be siblings or have a parent-child relationship. But at least there is a good possibility that they may indeed be married to each other.
Naturalization information – in some records from the 1800s, the date and place of naturalization is included, which can provide leads for obtaining their detailed naturalization records.
Nativity – again in the 1800s, the place of birth is entered, which is especially helpful for naturalized immigrants.
Physical Characteristics – California Great Registers were quite thorough and included age, height, complexion, eye and hair color, as well as any distinguishing marks or scars.
Political party or affiliation – usually abbreviated as Dem or Rep, but you will find other party names as well in addition to "None". Remember that Democrats and Republicans from years ago did not necessarily align with the same principles as the parties do today.
Precinct captains and election workers – not available in voter registration records, but certainly voting-related. Look in newspapers and you will find many lists of election workers. Many of my ancestors worked in precincts to assist in the electoral process.
Migration – a few voter registration record sets include a question regarding how long the voter lived in the state, the county, and the precinct. This can be useful to determine when they moved, which can lead to additional research as to their whereabouts for census research as an example.
There may be other types of data in voting registration records that I have not reviewed, but the 9 above capture a great majority of the types of information available.
The Ancestor Hunt has about 1,000 Free Voter Record Collections! Check them out at Voter Lists
To obtain the one-page Quicksheet pdf for easy reference of what information to look for, you can download it by clicking on 9 Reasons Why You Should Be Researching Voter Records
For all the previously published Quick Reference Guides, click on QuickSheets. 
Good luck with your search and hopefully you too will be able to have a voter record play a big breakthrough role in your family history research!