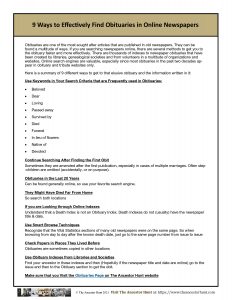 There are several ways to enhance your ability to find obituaries in old newspapers and other sources. Here are just a few of the most important techniques:
Use Keywords in Your Search Criteria – Include words such as Beloved, Dear, Loving, "Passed away", "Survived by", Died, Funeral, "In lieu of flowers", "Native of, Devoted, or a combination. This will take you directly to the Obituaries section of the newspaper 90% of the time.
Use Smart Browse Techniques – Recognize that the Vital Statistics sections of many old newspapers were on the same page. So when browsing from day to day after the known death date, just go to the same page number from issue to issue.
Continue Searching After Finding the First Obit – Sometimes they are amended after the first publication.
Use Obituary Indexes from Libraries and Societies – Find your ancestor in these indexes and then (Hopefully if the newspaper title and date are online) go to the issue and then to the Obituary section to get the obit.
A Death Index is not an Obituary Index – Death Indexes do not (usually) have the newspaper title & date.
They Might Have Died Far From Home – So search both locations.
Check Papers in Places They Lived Before – Obituaries are sometimes copied in other locations.
Obituaries in the Last 20 Years – Can be found generally online, so use your favorite search engine.
Visit The Ancestor Hunt – The Obituaries Page for obituary resources or the Newspapers Page for newspaper resources.
To download the 9 Ways to Effectively Find Obituaries in Online Newspapers Quick Sheet PDF, click on the Download button:
For all the previously published Quick Reference Guides, click on QuickSheets. 
Good Luck and Happy Hunting!