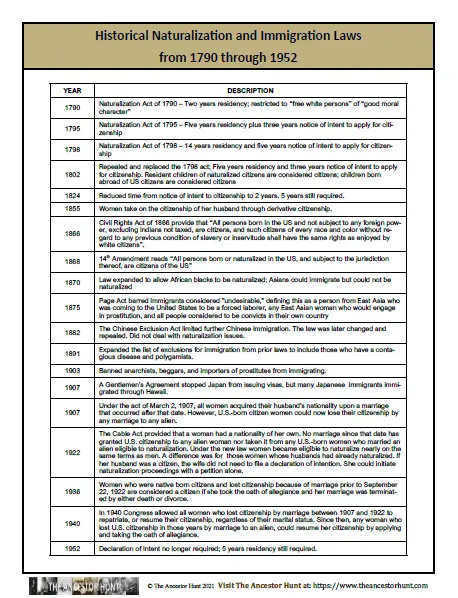 When researching our ancestors, one of the most important events, especially if they immigrated to America in the 19th and early 20th centuries, is their immigration and naturalization. The laws have changed multiple times and can be confusing if your ancestor is a woman or is non-white. The first Naturalization Act was passed in 1790. It only applied to white men.
Subsequent laws dealt with women and non-whites, and they were often changed and even repealed.
I have put together a Quick Reference Guide that highlights how the laws have changed over the years.  I would encourage you to do further research into the details of the laws, as this Quick Reference Guide is meant only to summarize. It's a very interesting topic.
To obtain the one-page Quicksheet pdf for easy reference, you can download it by clicking on the Download button below:
For all the previously published Quick Reference Guides, click on QuickSheets
Good Luck and Happy Hunting!