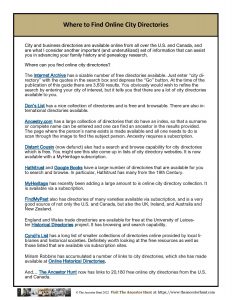 City and business directories are available online from all over the U.S. and Canada and are what I consider another important (and underutilized) set of information that can assist you in advancing your family history and genealogy research.
Where can you find online city directories?
Download the Quicksheet PDF
I have put together a Quick Reference Guide that has websites where you can find online city directories. Some are free (such as The Ancestor Hunt) and some are only available via a subscription
To obtain the one-page Quicksheet pdf for easy reference, you can download it by clicking on the Download button:
For all the previously published Quick Reference Guides, click on QuickSheets
Good Luck and Happy Hunting!