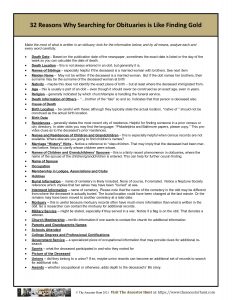 OK – you won't get rich when you find an obituary, but your genealogy research will benefit, and your family history research will get richer.
We have a tendency as researchers to underappreciate the value of the documents or articles that we already have acquired, and spend our time looking for new "stuff." There are so many "facts" and clues that can be retrieved from these artifacts if we just pay attention. And they are just sitting there staring at us. This is especially true for obituaries, in which you need to study every word for clues.
Download the Quicksheet PDF
To obtain the one-page Quicksheet pdf for easy reference of what information to look for, you can download it by clicking on the Download button below:
For all the previously published Quick Reference Guides, click on QuickSheets. 
Good Luck and Happy Hunting!