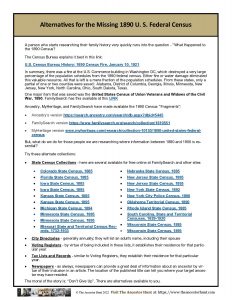 The 1890 United States Federal Census was almost completely destroyed in 1921 by fire and water damage. Only fragments remain. But there are alternative collections that will help us with finding ancestors in the 1880 to 1900 time period between federal censuses.
I have put together a Quick Reference Guide that has links to alternative collections that might be helpful, as well as a list of record collection categories that you should search as well.
To obtain the one-page Quicksheet pdf for easy reference, you can download it by clicking on the Download button:
For all the previously published Quick Reference Guides, click on QuickSheets
Good Luck and Happy Hunting!