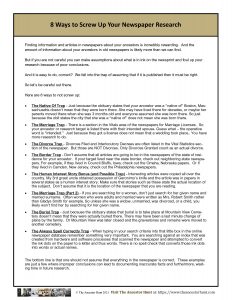 Finding information and articles in newspapers about your ancestors is incredibly rewarding. And the amount of information about your ancestors in old newspapers is likely more than we can find.
But if you are not careful you can make assumptions about what is in the ink on the newsprint and foul up your research because of poor conclusions.
And it is easy to do, correct? We fall into the trap of assuming that if it is published then it must be right. So let's be careful out there.
Download the Quicksheet PDF
To obtain the one-page Quicksheet pdf for easy reference on how to not screw up your newspaper research, you can download it by clicking on the Download button below:
For all the previously published Quick Reference Guides, click on QuickSheets. 
Good Luck and Happy Hunting!