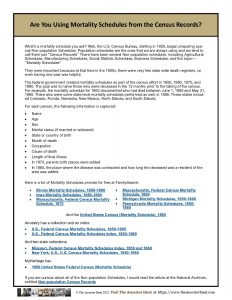 What's a mortality schedule you ask? Well, the U.S. Census Bureau, starting in 1850, began preparing special Non-population Schedules. Population schedules are the ones that we are always using and we tend to call them just "Census Records". There have been several Non-population schedules, including Agricultural Schedules, Manufacturing Schedules, Social Statistic Schedules, Business Schedules, and this topic – "Mortality Schedules"
They were important because at that time in the 1800s, there were very few state-wide death registers, so even having one year was helpful.
I have put together a Quick Reference Guide that has all kinds of information about the Mortality Schedules; what is in them; and how you can access them online,
To obtain the one-page Quicksheet pdf for easy reference, you can download it by clicking on the Download button:
For all the previously published Quick Reference Guides, click on QuickSheets
Good Luck and Happy Hunting!