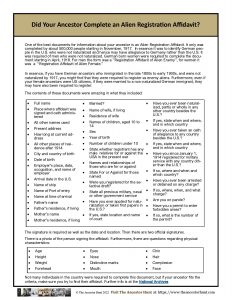 One of the best documents for information about your ancestor is an Alien Registration Affidavit. It only was completed by about 500,000 people starting in November, 1917. It was to identify German people in the U.S. who were not naturalized and hence may have allegiance to Germany rather than the U.S. It was required of men who were not naturalized. German born women were required to complete the document starting in April, 1918. For men the form was a "Registration Affidavit of Alien Enemy", for women it was  a  "Registration Affidavit of Alien Female."
In essence, if you have German ancestors who immigrated in the late 1800s to early 1900s, and were not naturalized by 1917, you might find that they were required to register as enemy aliens. Furthermore, even if your female ancestors were US citizens, if they were married to a non-naturalized German immigrant, they may have also been required to register.
The contents of these documents were amazing in what they included. There were 54 different items and facts that were entered by the person completing the affidavit.  Furthermore, there also was a photo!
I have put together a Quick Reference Guide that has a list of all the information that is in one of these affidavits. You can obtain the one-page Quicksheet pdf for easy reference by clicking on the Download button:
For all the previously published Quick Reference Guides, click on QuickSheets
Good Luck and Happy Hunting!