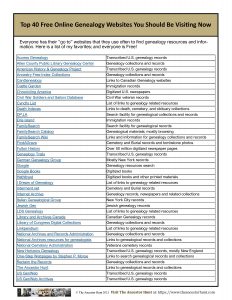 Do you like to search for genealogy records for your ancestors for Free? Duh. I have about 40 websites that I frequently use. Some have digitized records in their collections. Some have links to collections that can be searched or browsed. Some include transcribed records. And some have useful genealogical educational information.
All of the 40 websites in this QuickSheet are free to use to your heart's content.
To obtain the one-page Quicksheet pdf for easy reference of these websites. You can download it by clicking on the Download button:
For all the previously published Quick Reference Guides, click on QuickSheets.