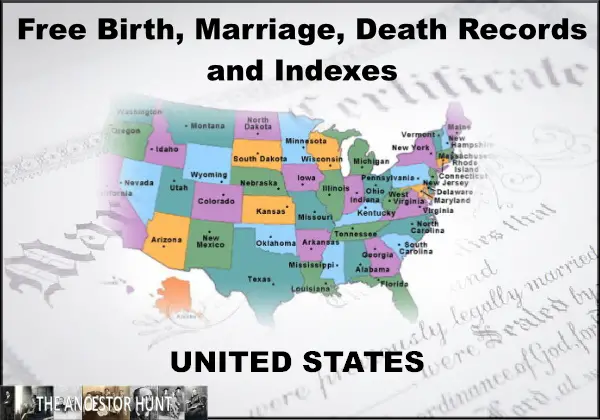 One of the main goals for genealogists is finding birth, marriage, and death (BMD) information about their ancestors.  
Over the past few decades, thanks to volunteers, librarians and archivists (as well as the largest of them all – FamilySearch), a great number of indexes to birth, marriage, and death collections have been provided for free online.  These searchable indexes provide specific BMD information, and often scanned images of the actual birth, marriage, and death certificates themselves. These free online collections have hundreds of millions of records in them in total.
There are a great number of online and offline collections that may include birth, marriage, and death information that are not included in the lists below. For example, newspapers, draft registration files, naturalization records, etc. have BMD info. To find out which types of other records may include BMD information, please see: ​
The lists below contain links to specific birth, marriage, and death indexes and record collections that are available for free online:
Alabama
Alaska
Arizona
Arkansas
California
Colorado
Connecticut
Delaware
District of Columbia
Florida
Georgia
Hawaii
Idaho
Illinois
Indiana
Iowa
Kansas
Kentucky
Louisiana
Maine
Maryland
Massachusetts
Michigan
Minnesota
Mississippi
Missouri
Montana
Nebraska
Nevada
New Hampshire
New Jersey
New Mexico
New York
North Carolina
North Dakota
Ohio
Oklahoma
Oregon
Pennsylvania
Rhode Island
South Carolina
South Dakota
Tennessee
Texas
Utah
Vermont
Virginia
Washington
West Virginia
Wisconsin
Good Luck and Happy Hunting!